If travelers to South America only visit one place on the continent, it's usually Machu Picchu. This ancient city of the Incas is high on everyone's travel bucket list and for good reason: it's incredibly breathtaking.  One must see it in person to truly experience the awe-inspiring feeling you get at first sight. It's difficult to put into words. However, getting there isn't easy. There are several options but we think the best way is to do the Jungle Trek to Machu Picchu. This multi-day adventure will allow you to cycle, raft, hike, and zip your way to the Citadel. Read on to get all the details!
Doing the Jungle Trek to Machu Picchu
When we started our 7-month long trip to South America, we knew we wanted to see Machu Picchu but we weren't sure how we wanted to get there. For many reasons, Machu Picchu ended up being the last big thing we did so we wanted to make it as epic as possible. We could have just flown to Cusco and taken the bus/train combo but what's the fun in that?! After multiple months of doing the digital nomad thing, we were ready to get back to our backpacking roots.
To get to Cusco, we decided to jump on the Peru Hop bus which turned out to be one of the best things we did in South America. You can hop off at any point along the route and stay as long as you like.
Choosing a Tour Operator
It's not hard to shop for a tour to Machu Picchu. Travelers have many options with the most popular one being the Inca Trail hike. It's quite expensive and very demanding on your body. As we were at the end of our trip, we were running low on funds and we were just plain tuckered out ("tired" for those who don't speak southern English). Not only that, but we didn't have the necessary gear for a multi-day trek.
The Jungle Trek to Machu Picchu sounded perfect for us as each day of the trip has a different activity. Sasha did a lot of shopping for tour operators. We decided to book our trip with American Inca Trail.
They're a small company that specializes in unconventional tourism which is something we can totally get behind as we strive for an unconventional lifestyle. We loved everything about our experience with them and have so many good things to say; their customer service is amazing, they respond quickly, and their website is very easy to navigate.
One of the best perks of booking the Jungle Trek to Machu Picchu through them is that they include the train back to Cusco from Aguas Calientes (the village in the valley below Machu Picchu). Other tour companies do not. Rather, they include a van ride. While this is cheaper, you have to walk three and a half hours back to Hydroelectrica from Machu Picchu to catch the van. Then it's a long, bumpy ride back to Cusco. Not exactly ideal after waking up before sunrise and exploring the ruins all day.
Just be sure to specify that you would like the afternoon train instead of the evening one. Half of the fun is seeing the amazing scenery go by. You'll miss it if it's dark.
American Inca Trail offers many other tours to different parts of Peru such as the Amazon, Rainbow Mountain, and Sacred Valley. With all their 5-star TripAdvisor reviews, you're sure to be satisfied with everything they offer.
Ready to hear about the Jungle Trek?! Let's get into it!
Jungle Trek to Machu Picchu Day 1
Downhill Mountain Biking and White-Water Rafting
Day 1 of the Jungle Trek to Machu Picchu is huge and includes downhill mountain biking and white-water rafting.
We were staying ouside of the city center, so AIT sent their personal driver to pick us up and deliver us to the van with our group and guide. We spent the morning twisting and turning our way out of Cusco, watching it get smaller as we climbed into the mountains.
After about three hours, we finally reached the starting point. If you're prone to altitude sickness, you'll definitely want to get some sort of medication. The starting point is over 4.000 meters above sea level! I would suggest getting some coca leaves or candies in Cusco.
Our guide had all the necessary safety gear including full BMX style racing helmets and full body protection from gloves to knee pads. The road is paved so as long as you're decent at riding a bike, you should be okay.
The ride is around 50 kilometers and takes about 2-3 hours. The van follows behind the group so if something were to go wrong, help isn't far behind. They also keep your bags so you don't have to ride with them. If at any point you want to stop, just pull over on the side of the road and wave down the van when it comes.
The Pitfalls of Visiting in Rainy Season
Unfortunately for us, as soon as we arrived the clouds rolled in and it started to rain a little. This is a risk you take when you visit in the rainy season. It's also not surprising at that high of an altitude. We were there at the end of March which is the end of the rainy season.
The further we went down, the harder it rained.
Sasha and I both still attempted to do the full ride but we just didn't have proper rain gear so it didn't take long before we were fully drenched. We were getting splashed by passing cars and buses. and it was cold. It made for a rather miserable experience. Eventually, we pulled over and flagged down the van and enjoyed the view from the foggy window.
Don't let this deter you from visiting in rainy season, though. Just make sure you bring a full-body poncho. I think I could've finished the ride if I had had one. The biggest problem for me was that the bikes didn't have mudguards so the water from the road was shooting straight up my butt. Um, no thanks!
There were a couple of people in our group who did the full ride. The stopping point is a small village called Huamanmarca at the bottom of the mountain. This is where your van will meet you with all of your gear and you'll be able to change before moving on. Make sure you bring plastic bags for your wet clothes.
Onward to Santa Maria
From there we continued in the van to Santa Maria for lunch. Of course, as soon as we got there it was hot and sunny. Why couldn't that have been the case on the mountain?! In the end, it was fine. If there had to be one activity that got rained out, I'm glad it was this one.
Our group was able to dry most of our wet clothes. We were the first group to arrive which meant we got to take all the hanging space. It was quite a funny sight seeing all kinds of clothing and bags hanging from this tiny restaurant in the mountains of Peru.
Santa Maria is where you stay the first night and it's where you'll also start the white-water rafting trip.
It's important to note that this is an optional activity that isn't included in the cost of the tour. When we were there, the Peruvian government had suspended all rafting trips because the river was too high from all the rain. It would have been nice to go rafting but we also didn't mind chilling at our hostel until dinner which is what you'll do if you opt to not participate in the rafting.
Dinner was at the same restaurant as lunch and the food was quite delicious! Our guide gave us the lowdown on the next day's activities and we called it an early night.
Jungle Trek to Machu Picchu Day 2
Hiking and Hot Springs
Day 2 of the Jungle Trek to Machu Picchu starts early! We woke up around 6 am and went back to the same restaurant for breakfast. I guess it's the only restaurant in Santa Maria? I'm sure it's not. It's just funny that we ate there three meals in a row. The breakfast was just as good as lunch and dinner and there was a lot of it! Plenty of fuel for the long day ahead.
The vast majority of the second day is spent hiking from Santa Maria to Santa Teresa – a 22-kilometer trek. After breakfast, we crossed a river and started walking up in the mountains.
Along the way, we stopped at various points where our guide would tell us more about Incan history and culture. He explained the importance of the coca plant and all the uses it has in their society. He lamented the fact that a few people had used chemicals to alter the state of such an important plant and made it so taboo in modern times.
Eventually, we got to the Inca Trail and got to spend some time walking the famous route to Machu Picchu. It may not be quite as cool as walking on the Inca Trail all the way to Machu Picchu, but we were still pretty stoked to do it even just for a little while.
The rain continued to fall in spurts on us so we spent longer than we probably would have at the first resting point. It's a little shack with a stand selling local chocolates, coca leaves, drinks, and other snacks. There are bathrooms you can pay to use and they have a noisy parrot to boot.
From there we continued to a small family home where we all got to try our hand at roasting coffee beans and play a little dress up.
The views off to the side of the trail were absolutely breathtaking despite the weather and we stopped at several points along the way for photos shoots.
Next up was lunch and one more stop to buy passion fruit popsicles. Finally, we made it to the "cable car."I put it in quotation marks because it is very makeshift but it was a really fun way to cross the river. This is another cost not included in the tour price but it's only 5 soles per person.
The day finished with a nice soak in the hot springs of Cocalmayo. It was a perfect way to relax after an epic day of hiking. Our guide gave us the option to walk from there into Santa Teresa or pay 5 soles each for a ride. Needless to say, we took the ride as none of us felt like walking anymore. It's important to note that the entrance into the hot springs is 10 soles per person.
That night, our group and several others had dinner in the same restaurant. Things got a little wild when our guides insisted we try the "Inca Tequila." The restaurant turned into more of a nightclub complete with disco lights and loud music once most people cleared out. We actually finished the whole bottle of hooch and ordered up some beers as well. We were told that Day Three would be easy so go ahead and party!
Jungle Trek to Machu Picchu Day 3
Zip Lining and More Hiking
Thanks to the fiesta the night before, we were all moving a little slow. Good thing we had a later start!
Day 3 of the Jungle Trek to Machu Picchu is probably the most fun as you get to go zip lining! The zip line course has 6 lines zig-zagging across the valley over the river. On one of them, you had to hang upside down. On another, you got to fly like Superman. I've done several zip line courses over the years, but this was one of the best.
There were some pretty hilarious moments when Sasha couldn't make it all the way across because he's too skinny. The last line was so long that he lost steam well before reaching the end. As he started to go backward, the guides tried to throw him a line to pull him back in but he missed it and almost went half way back to the starting point. I'm not afraid to admit that I had a nice laugh watching the guides go out to retrieve him and pull him to the end.
After the exhilarating morning, it was time for lunch. They transported us to Hydroelectrica to meet up with our guide and the rest of our group. We were yet again very impressed by the food.
From there we began walking along the train tracks from the hydroelectric plant to the town of Aguas Calientes (Machu Picchu Village). The trains are still running, though, so there are quite a few breaks as you have to stop when they come by.
All in all, it was almost four hours of walking to reach the town. We caught some glimpses of Machu Picchu along the way and learned a lot about it from our guide. The excitement was high as we were finally gearing up to visit one of the New 7 Wonders!
Jungle Trek to Machu Picchu Day 4
Exploring Machu Picchu
Day 4 of the Jungle Trek to Machu Picchu started bright and early at 3:30 am! There are two ways to get up the mountain to the ruins: take a bus or hike. We had come all this way, why not hike a little more?
The hike starts by crossing the bridge over the river which opens at 5 am. The line at the bridge starts forming early, so it's best to get there and secure your spot. Our guide had given us all bagged breakfasts the night before so we chowed down while we waited.
When the bridge finally opened, I was more excited than I had ever been in my life. We took off up the mountain as fast as we could. As we climbed higher, the sky got lighter and feelings of excitement only intensified.
Once inside, we got a 2-hour guided tour with the rest of our group and our guide.
When we got our first glimpse of the ancient city, we were absolutely awe-struck. It's just one of those places that you just have to see to believe. It's hard to put into words what it feels like gazing out at Machu Picchu with the morning fog rolling in. Not only is it an incredible sight, but the energy in there is intense in a good way. No one is really sure why Machu Picchu was built but it definitely was and still is a special place.
After our short tour, we made the climb up Huayna Picchu. It should be noted that you need an extra ticket to do this and that they only allow 400 people per day. As such, you'll want to plan your trip out well in advance if you hope to climb this or the other mountain. Was it worth the extra cost and effort? Just look at this photo: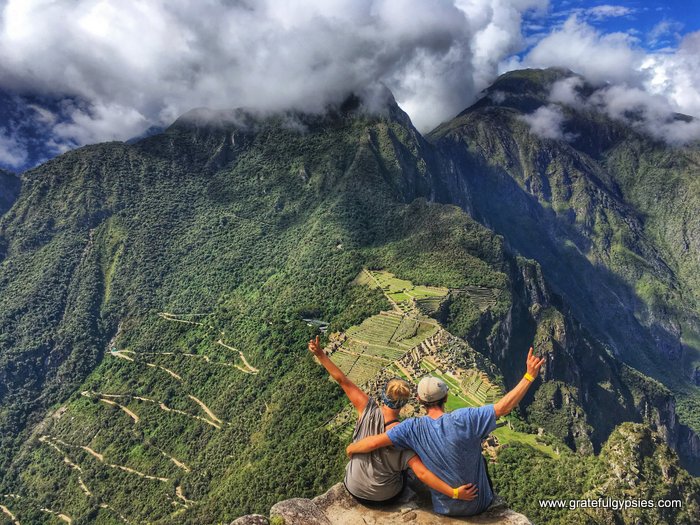 Thankfully the weather gods were on our side, as we had a nice sunny morning for the most part. Once we got down from Huayna Picchu, the clouds returned and opened up. We stuck around to explore some more of the main sight anyways. You can't let a little rain ruin your day when you're all the way out at Machu Picchu!
That evening, we caught a combination of train and bus all the way back to Cusco. The scenery outside the window was beautiful and I thoroughly enjoyed it as I sat reflecting on the journey. It was an eventful and exhausting four days getting to Machu Picchu but totally worth all the effort.
Of all the adventures we were fortunate enough to enjoy in our 7-month trip around South America, it's hard to top the Jungle Trek to Machu Picchu. That's why we saved it for the end of our trip, and we're so glad we did. If you're planning a trip to Peru to visit Machu Picchu and you enjoy a bit of adventure, I highly recommend you try the jungle trek!
Important Things to Know When Visiting Machu Picchu
This tour with American Inca Trail includes your entrance ticket but if you do decide to get it yourself, it's important to know that there are different entry times. The first is between 6 am and noon.  That is the one you want if you're going to do the Jungle Trek as your guided tour takes place for 2 hours just after the gates open.
Make sure you use the bathroom before you go inside! The only bathrooms are located at the entrance and the path around the ruins is only one way. You're not allowed to turn around and backtrack. You must keep moving forward in the same direction. Your ticket is multiple entry. That means you can do the full loop, go out and use the bathroom, then come back in and see it all over again as long as you do it before noon. That is when the next entry begins and you'll have a much harder time convincing security to let you in again.
It's a good idea to bring some snacks. You have to be very sneaky about eating them, though, and make sure you take all your trash out with you. There's no eating allowed inside the park because officials are concerned that people will feed the llamas.
If you forget snacks or need something more, there is a snack bar above the bathrooms serving coffee, little sandwiches, candy bars, and other desserts. You could use your bathroom break as a time to grab a bite or a coffee before you head back inside.
Climbing Huayna Picchu
This is an extra ticket that will need to be booked in advance. They only allow 400 people per day to climb the mountain. There are two entry times and 200 people are allowed per time. It's imperative that you get these tickets in advance. We booked them the day they went on sale. AIT can get them for you when you book your trip if you do it far enough in advance.
We recommend going with the earlier time if you're there during rainy season like us, as you're more likely to have better weather. Obviously, it's unpredictable but the day we were there, it sprinkled a little bit in the early morning, then it cleared up as we were climbing Huayna Picchu. By the time we got to the top, it was bright and sunny and we had amazing views. When we got back down the mountain it was starting to rain and proceeded to rain pretty heavily for an hour.
Huayna Picchu is the most popular mountain to climb thanks to the incredible view you get of the city from the top. It's the mountain that provides the backdrop in almost all the photos you see of Machu Picchu. There is another mountain called Machu Picchu Mountain. They also limit it to 400 people per day but there is far less demand so you don't necessarily have to get those tickets the day they go on sale.
What to Pack for the Jungle Trek to Machu Picchu
As you'll be carrying everything with you throughout the trip, it's important to bring a good bag and just the right amount of stuff. You do have the option to send your bag on a bus on Day 2 when you do the most hiking but you'll have to pay 10 soles.
Here's our packing list for the Jungle Trek to Machu Picchu:
Gear/Toiletries
Clothing/Shoes
4 shirts – 2 to wear while hiking and 2 for the evenings after you've showered. Moisture-wicking shirts are perfect as they help keep you dry. Check out the options on Amazon.
1 pair of hiking pants – These are great as they're the perfect material, they dry fast, and you can zip off the pant legs to make them shorts.
Shorts – in case it's hot
1 pair of leggings or yoga pants – perfect for the cool evenings
1 hoodie or sweatshirt
Full body poncho – only really necessary if you're going during the rainy season
Rain jacket
2 pairs of shoes – one pair of good, comfortable tennis shoes or hiking boots; one pair of sandals or flip-flops for the evenings and zip lining. Sasha loves both Chacos and Keens because they're good for both hiking and chilling.
Underwear – obviously
There are sandflies on the trail and they will bite you! They are totally harmless. However, imagine the itchiest mosquito bite you've ever had. Now multiply it times 100…..that's what a sandfly bite is like! Make sure you have some bug spray with Deet. The more covered you are, the fewer places they have to bite you.
Conclusion
Machu Picchu is a very special place that everyone should try to visit. There are many different ways to get there but we highly recommend the Jungle Trek to Machu Picchu. You definitely will not regret it!
Hopefully, this guide gives you a better idea of what to expect and how to pack. You can always shoot us an email or head to our contact page if you have further questions!
Like It? Pin It for Later!
Would you like to do the Jungle Trek to Machu Picchu? Let us know in the comments!
We received a discounted trip from American Inca Trail in exchange for this post. You get our honest opinion regardless of who's footing the bill!
This post may contain affiliate links. If you purchase something through our link we will earn a commission at no extra cost to you! The earnings go towards running this site. Thank you for the support! We only recommend products we have personally used and trust.