All across Latin America, Semana Santa (Holy Week) is a busy and festive affair. Many people travel for the holiday, and there are unique celebrations in each country. One of the most popular places to visit for Holy Week is Antigua, Guatemala. This is because the city is home to the biggest Easter processions in the world. It's an incredible event to experience, but it definitely requires some planning. We're here to help with a comprehensive guide to Semana Santa in Antigua Guatemala.
An Intro to Semana Santa in Antigua Guatemala
People have been commemorating Semana Santa in Antigua Guatemala for several centuries now. The tradition dates back to the arrival of the Spanish in 1524. Under colonial rule, the Spanish established Roman Catholicism as the official religion of Guatemala. Indigenous Mayans incorporated their beliefs into Catholic traditions from the very beginning.
These days, a vast majority of Guatemalans identify as Christians. It's now a pretty even mix of Catholics and Protestants, at about 45% each. As you may guess, Semana Santa in Antigua Guatemala is kind of a big deal. People look forward to this week all year and spend a lot of time preparing for it.
Thousands of locals are a part of the Holy Week celebrations in Antigua. Over one million people travel here to experience it as well, so the city is jam-packed the entire time.
While Semana Santa is definitely the busiest time, the festivities start much earlier in Antigua. Actually, they officially start on Ash Wednesday and last through the entire period of Lent.
Every weekend, there are different vigils and processions going on at churches all over the city. The vigils typically take place on Friday and the processions occur on Sunday. When there's a vigil, a church stays open all day long to welcome in visitors who come to see the sacred sculptures and colorful alfombras. "What are alformbras?" you may be asking yourself. Great question!
The Alfombras of Semana Santa
In Spanish, alfombra means "carpet," but that translation doesn't exactly help here. They aren't rolling out red carpets for the processions during Semana Santa in Antigua Guatemala. Rather, these alfombras are works of art that are meticulously crafted from sawdust, pine needles, flowers, and fruit.
Each church puts together an alfombra, which remains on display for visitors to admire. It's not just churches putting them together, either, as families and local businesses also get in on the fun.
A major highlight of experiencing Holy Week in Antigua is just walking around and watching people put these things together. It really is an impressive sight to behold! They take several hours to create and they're truly stunning. Just check out some of our favorite alfombras we saw on our recent visit to Antigua:
While the alfombras take a lot of time to assemble, they don't take very long to trample. It's all a part of the processions, which are the most important part of Semana Santa in Antigua.
A Guide to the Processions in Antigua
Each church in Antigua has their own procession during Lent. As I mentioned, these usually take place on Sundays. There are also some children's processions that happen on Saturdays. Each procession involves hundreds of people and goes on for the entire day.
The Amazing Altars
For the processions, churches assemble huge altars that depict scenes from the Bible. These things are massive and can weigh thousands of pounds. Some of them take well over 100 men to carry around town, who take turns throughout the 12-hour procession.
It's incredibly hard work carrying the altars, but being able to do so is a huge honor. As a matter of fact, people actually pay for the honor of being in the procession.
Here are a few photos of the amazing altars that you see during the processions: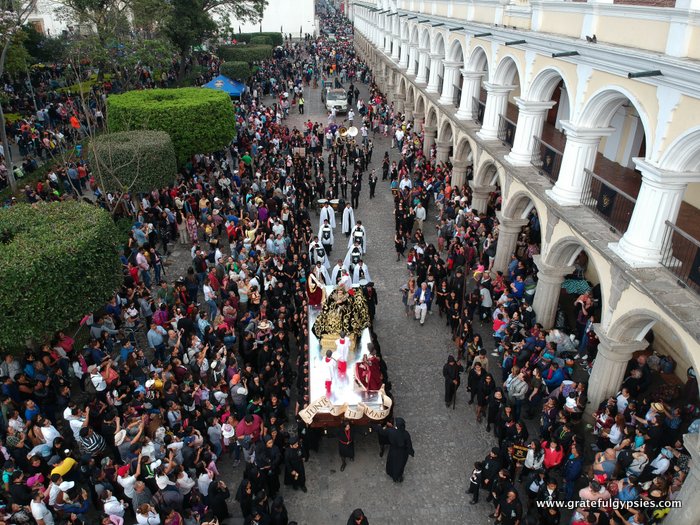 The Order of the Processions
Each procession follows a particular route around town, and the streets shut down for them to pass. People spend hours before the procession putting the finishing touches on their alfombras, and then they take a spot on the sidewalk to watch it pass by.
The processions begin with a group of men carrying signs and thuribles (incense holders). Even if you're not aware of a procession, you'll know one is coming by the smoke and the scent given off from all the incense.
These people at the front of the procession walk around the alfombras. It's not until the group known as cucuruchos (bearers) carrying the altar pass by that the alfombras are trampled. Just like that, these intricate works of art are nothing but dust in the wind. Cue Will Ferrell in "Old School:"
The men in the procession wear purple robes throughout Semana Santa in Antigua Guatemala. Eventually, they change into black on Good Friday to mourn the death of Jesus.
Trailing behind the altar is a full band playing traditional religious music. There are people helping to drag heavy drums along the cobblestone streets, as well as others pushing lights and generators. It really is quite the spectacle!
There's usually another altar in the procession that's carried by a group of women. These typically depict the Virgin Mary and, while much smaller than the others, are still very impressive.
At the very end of the processions, there's a garbage truck and a crew of men with shovels. As soon as the procession passes through, they sweep up the remnants of the alfombras. If not for some colorful sawdust in the cracks of the cobblestone, it's as if nothing ever happened.
Schedule of Semana Santa in Antigua Guatemala
As I mentioned, there are vigils and processions going on all throughout Lent in Antigua. The vigils happen on Friday at a different church each week. The church will stay open all day and welcome in visitors who come to see the alfombras and sacred sculptures.
Processions take place on Sunday and they typically start a little later in the afternoon. They have a route mapped out (although they don't always seem to follow it) and walk all around the city. The processions last for several hours and usually finish up around 10-11PM.
Semana Santa in Antigua Guatemala officially starts with Palm Sunday. From here on out, there are processions every day until Easter. This is when the city gets really busy and crowded, so be prepared!
The biggest processions of all take place on Good Friday, but not at the usual time. Crowds start to gather at La Merced church around midnight, and the procession doesn't start until after 3 in the morning!
There's a short lull in the processions in the morning, but they start right back up in the afternoon and keep going all day. This is the day when you'll see the largest, most impressive altars and the most beautiful alfombras.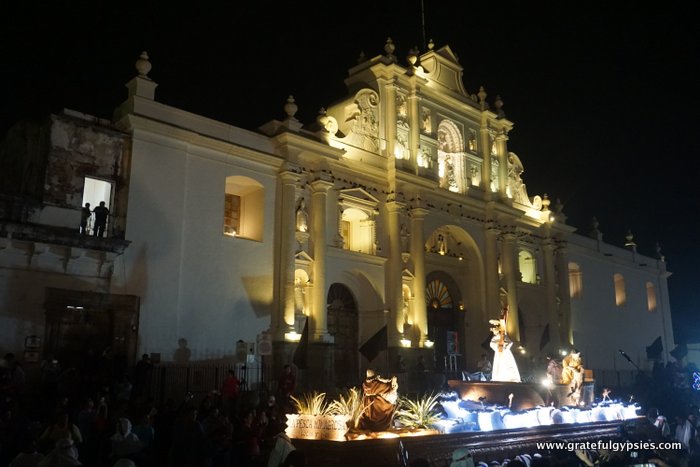 On Saturday, the processions are all women carrying the image of the mourning Virgin Mary. The mood is very somber, and everyone is wearing black instead of the bright purple that is worn the rest of the time.
Finally, everyone rejoices on Easter Sunday to celebrate the resurrection of Jesus. There's one last festive day of processions to wrap up Semana Santa in Antigua Guatemala before everyone hops on a chicken bus to head back home.
Check out some highlights of Semana Santa in Antigua in our short video!
Travel Tips for Semana Santa in Antigua Guatemala
Semana Santa is by far the busiest travel time of the year in Antigua. Upwards of one million people flock here to see the processions, so you definitely want to plan your trip well in advance.
For traveling to Antigua, we highly recommend using GuateGo. They run shuttles all over Guatemala as well as between neighboring Mexico and Belize. We traveled with them all the way from Lake Atitlan across the country and on to Caye Caulker in Belize and had a great experience.
Click here to check out all their options and book your trip with GuateGo!
We wanted to visit Antigua during Holy Week for a while and we finally got the chance to go this year. I spent a lot of time researching and planning this trip, and I'd say it was a smashing success. Here are some of my top travel tips for Semana Santa in Antigua Guatemala:
1. Stay close to the action
While there are some really nice places to stay up in the hills or just outside of town in neighboring suburbs, it's better to be right in the thick of it all during Semana Santa. The roads can often be clogged or just completely closed, so this can make getting to town difficult and time-consuming.
If you really want to experience the processions to the fullest, you're better off staying somewhere right in town. This way you can come and go as you please without worrying about the state of traffic.
2. Go with the flow
Sometimes the processions start a bit later than expected. While they usually have a route mapped out, they often change it up. We were following one procession based on the map, and noticed it went in the complete opposite direction of what was shown. It's Guatemala – you've just got to go with the flow here.
3. Pace yourself
While you'll surely feel the need to see all the processions and run all over town to make sure you snap a photo of every single alfombra, that will wear you out real quick. Antigua is at a very high elevation, the sun can be strong during the day, and those cobblestone streets aren't the easiest to walk around on all day.
Make sure you give yourself some time to chill here and there. Thankfully Antigua is home to several excellent cafes and bars where you can rest your feet and grab a drink/bite to eat before hitting the streets again.
4. Dress comfortably
Speaking of those cobblestone streets, you'll want to make sure you have some comfortable footwear on for Semana Santa in Antigua Guatemala. Things like flip flops or heels aren't gonna cut it here!
One day, Rachel wore shorts and wished she had pants. Another, she wore pants and wished she had shorts. The weather can change quickly here, so you want to make sure you've got clothes for any occasion.
Rachel thinks yoga/workout pants or a skirt with leggings are good choices. For dudes, I think shorts and a t-shirt are fine. Bring a hat/sunglasses for the day and a light jacket or a hoodie for the evening.
5. Don't miss the Good Friday procession
When we found out that the Good Friday procession wasn't starting until after 3AM, we thought we would skip it. A friend convinced us it was a must-do, though, and we're really happy we listened to her advice.
The bars in Antigua close at 1AM, but some of them manage to stay open a bit later for this special occasion. We recommend hanging out and enjoying yourself, but taking it easy. Be sure to sit down for a while to rest your feet, drink some water here and there, and skip out on the tequila shots!
When the bars kick you out, it's the perfect time to head over to La Merced. There are plenty of food and drink vendors working through the night, so you can soak up some of that booze with a cheesy pupusa and then grab a coffee to keep you awake for the procession.
This procession is definitely the highlight of experiencing Semana Santa in Antigua Guatemala, so it's well worth staying up late for!
Where to Stay in Antigua Guatemala
For a small city, Antigua sure has a wide range of choices for accommodation. From budget hostels up to luxury hotels, there's something for everyone here.
If you're wondering where to stay in Antigua for Semana Santa, here are a few of the best choices:
Best Hostel – Tunik Hostel
If you're balling on a budget, then look no further than Tunik Hostel. This place has comfortable dorms at a very reasonable price. They also have a pool and a great chill-out area where you can meet fellow travelers. Click here to see the price.
Best Budget Accommodation – A Place to Stay
This is where we stayed for Semana Santa in Antigua this year and we had a great time. The owners are super friendly and helpful. They also have about ten adorable cats who live there and a bunny named Mateo. Breakfast is included in your stay and you'll be steps away from the processions. Click here to check the price.
Best Mid-Range Accommodation – Los Olivos Boutique Hotel
For those who want to be right in the thick of all the action but still want some peace and quiet, Los Olivos is a great choice. This hotel is located right in the middle of town, so you'll easily be able to take in all the processions. The rooms here are really nice and well-appointed. Click here to view the price.
Best Luxury Accommodation – Porta Hotel
This is definitely one of the best places to stay in Antigua Guatemala. It's a boutique hotel with plenty of amenities, including an outdoor pool, a spa, and a gym. Be sure to book early if you want to stay here for Semana Santa. Click here to check the latest price.
Semana Santa in Antigua Guatemala is a very, very busy time. People travel from all over the world to be here for the processions, so you'll definitely want to secure a place to stay well in advance. If none of the places I recommended are available, just go ahead and do a general search for Antigua to see what's still available:
Where to Eat in Antigua Guatemala
There are tons of excellent places to eat in Antigua. We spent a few weeks in the city and got to try several of them, so we've put together a little list of some of our favorites for you:
Where to Drink in Antigua Guatemala
Whether you're looking for a local craft beer, a nice glass of wine, or a fancy cocktail, you can find it here. Here are some of the best places to drink in Antigua:
As I mentioned earlier, the bars in Antigua close down at 1AM. There are some "after hours" spots that try to fly under the radar for obvious reasons, so ask around to find out where they are.
If you're in town on a Saturday, you can also go out to the pool party. It's basically a rave in an abandoned pool and the party goes all night every Saturday. There's also a mansion party once a month or so at this massive house up in the hills. Both parties run shuttles from popular bars and hostels in town.
Ready for Semana Santa in Antigua Guatemala?
Well there you have it, amigos. That does it for our guide to Semana Santa in Antigua Guatemala. It's definitely an amazing experience and one we highly recommend if you get the chance.
If you're curious about how we planned our trip, we actually stayed in Antigua for two weeks first. This was earlier on in Lent when there were processions going on but it wasn't too crowded. We stayed in an excellent Airbnb in the San Bartolo area just south of the city so we could keep up our work teaching English online.
Not on Airbnb yet? Sign up through our link to get $40 off your first booking!
After a few weeks at Lake Atitlan, we came back for the last few days of Semana Santa. We stayed three nights at A Place to Stay right near the bus station and ran around town checking out the processions. I actually booked this place somewhat last minute, but we definitely got lucky. Book early to avoid disappointment as this is a really busy time in Antigua.
We saw the Semana Santa procession in Cusco last year and made it to Antigua this year. Both were incredible cultural experiences and we're so glad we decided to be a part of them. As for next year, who knows where we'll be? We might be in Europe by then, but Semana Santa in Latin America is just so much fun that we might have to find a new spot to celebrate it!
If you have any questions or comments about Semana Santa in Antigua Guatemala, please drop us a line below!