Looking for some ideas for road trips from Denver? You've come to the right place! In this post, we're going to focus on one of the best road trips we've ever done. Read on for a detailed guide to visiting the Black Canyon of the Gunnison and Great Sand Dunes National Parks, complete with hot springs, a castle, a ghost town, and UFOs.
Planning Road Trips From Denver
When planning a road trip from Denver, you'll need to decide whether to drive out there or fly in and rent a car. You definitely need your own wheels to pull this trip off.
We opted to fly into DIA as we had a bunch of Southwest points and their Companion Pass at the time. Be sure to read our Travel Hacking 101 post for more info on how to rack up points and take free flights.
Once in Denver, you can either rent a car at the airport or take the train to Union Station. Since we have so many friends in Denver, we always just hop on the train and stay with a friend for a night or two before hitting the road.
There are several rental car companies downtown. We used this Avis location for this and other road trips from Denver. For this particular trip, some sort of SUV is ideal.
You definitely get a better deal when booking and paying in advance, so try to figure out your dates ASAP.
The next thing you'll need to figure out is your route.
We headed west out of Denver and made Black Canyon of the Gunnison National Park our first stop. You could also go south first and visit Great Sand Dunes National Park first. Either way, you'll make a loop and won't have to backtrack.
Last but not least, you'll want to decide on accommodation. There are plenty of campsites along the way if you're into that. It's hard to fly with camping gear, though…
We actually intended to camp and borrowed a bunch of gear from friends. In the end, wildfires and a cold wave that brought snow in September forced us to call an audible. We ended up staying in a mix of Airbnbs and hotels despite having an SUV full of camping gear.
You'll find recommended options for accommodation for each place we covered on one of the classic road trips from Denver.
Black Hawk: A Mining Turned Gambling Town
On the way out of Denver, we made a bit of a detour to visit an old friend who lives out in the mountains. After hanging at her place for a bit, we stopped in Black Hawk – a former mining town that was recently revived thanks to the addition of casinos.
We only like being in a casino when we're seeing Phish in Las Vegas, so we just did a quick lap around town to check it out. I also took the opportunity to fly the drone. The town looks pretty cool from above, doesn't it?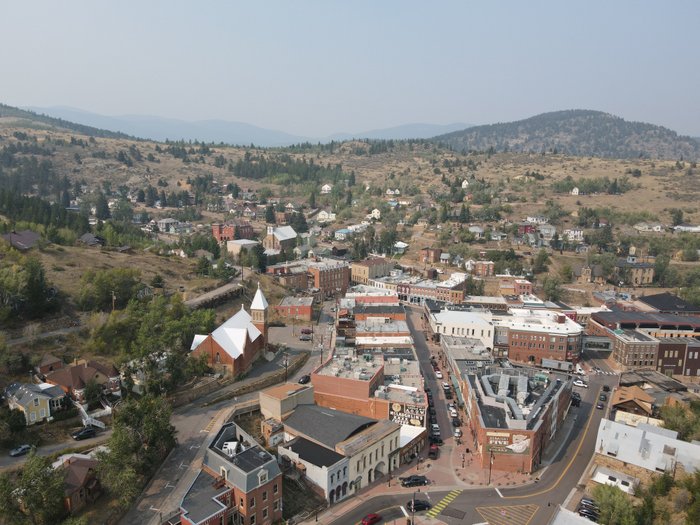 Other than that, we didn't make many stops on our way to the national park. Our friend recommended a deli in the mountain town of Avon, so we made a quick pitstop there for lunch. From there we powered on for the remaining 3-hour drive to our first stop.
Black Canyon of the Gunnison National Park
While the Grand Canyon gets all the hype, the Black Canyon of the Gunnison is one of the least-visited national parks. This is primarily due to its location, as it's a 5-hour drive from Denver International Airport.
In case you're wondering where the name comes from, it's because the canyon is so steep that it rarely receives sunlight. As it's always cast in shadows, the walls of the canyon appear to be black.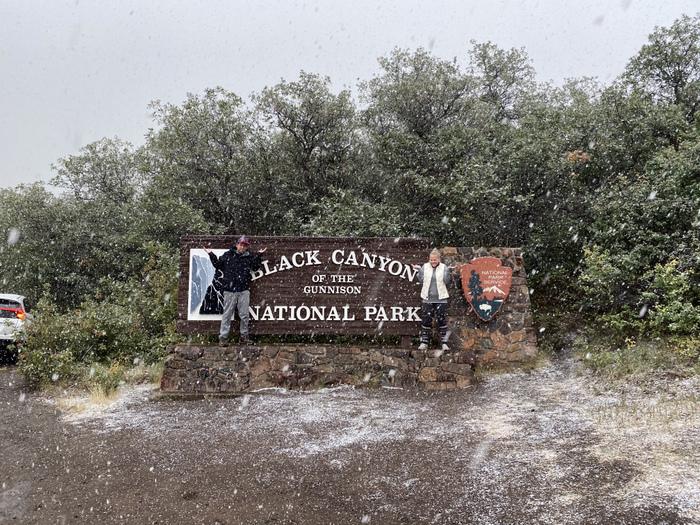 Just like the Grand Canyon, there's a North and a South Rim here. The southern end has a paved road and a visitor's center, while the north is quite rugged. Keep in mind that it takes about two hours to drive between them.
The South Rim is open year-round, but the North Rim and the East Portal are both closed in winter. The South Rim Drive is usually open to vehicles from late April to mid-November. In the winter months, you'll need to be cross-country skiing or snow-shoeing to access it.
It's important to be prepared for any kind of weather. You might need a raincoat one minute and then your sunglasses the next. As I mentioned, even in early September we got snowed on there!
You can access Black Canyon of the Gunnison National Park with a vehicle for a week with a pass that costs $30. If you plan to visit a few other national parks in a year, it's worth it to just spring for the annual America the Beautiful pass, which costs just $80.
Things to Do at Black Canyon of the Gunnison
There's plenty to do here to keep you busy for a few days. Cruise along the South Rim Drive stopping along the way at the many scenic viewpoints. It's easy to find parking and many of them are just a short walk from the road.
There are several hiking trails of varying lengths and difficulties on both sides of the Black Canyon of the Gunnison. We did a few of them, including the Rim Rock Nature Trail, Warner Point Nature Trail, and North Vista Trail to Exclamation Point (!!!!).
For a detailed look at the trails, check out this page from the NPS.
Other activities here include horseback riding, fishing, and wildlife spotting. You might see Rocky Mountain Bighorn Sheep, Mule Deer, Peregrine Falcons, and Golden Eagles out here.
It's also worth driving the East Portal Road to get down to the Gunnison River. This provides a totally different perspective than you get up at the rim of the canyon. There's also a campground here, which brings us to the next section…
Where to Stay at Black Canyon of the Gunnison
There are a few campgrounds to choose from here – one at each rim and another down by the river. Of these, the South Rim Campground is the most developed and the only one that's open year-round.
You can book a campsite in advance during the summer months on recreation.gov. It costs $16 a night for a basic site and $22 for an RV site with electricity. Both the North Rim and East Portal campgrounds are always first-come, first-serve and are also $16 a night.
While our intention was to camp, Mother Nature had other plans. Thankfully, we were able to find a nice Airbnb in Delta. It's a big 3-bedroom house and was way more than our group of three needed, but it sure was nice having all that space! Click here to check it out.
This town is about a 45-minute drive to the South Rim and an hour to the North, making it the perfect home base for exploring both sides. There are also several hotels in Delta:
Closer to the South Rim, the town of Montrose is another popular option. There's a KOA here with RV sites and cabins as well as a handful of hotels and cool homes:
Cottonwood Hot Springs
One of the best road trips from Denver rolls on to a very relaxing stop. After all that hiking, you're going to love kicking back and soaking in hot springs! It's just a few hours down the road to the town of Buena Vista.
This is a cute little mountain town with a good selection of cafes, restaurants, and breweries. We enjoyed some craft beer and tasty grub at Eddyline Brewery upon arriving in town. The next day, we hit the Blend for some amazing coffees and brunch.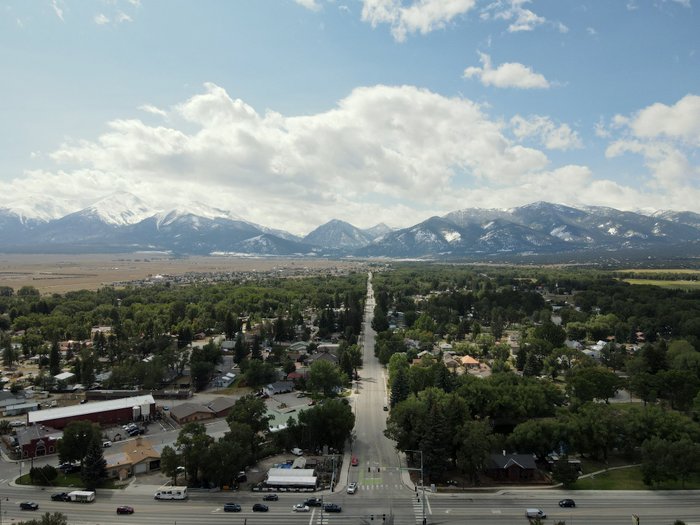 While the food & drinks are great, the main reason to come here is to soak in the hot springs. A few miles outside of town, you'll find the Cottonwood Hot Springs.
The pools are fed by natural hot springs and they range from 94° F to 110° F. They have a dry sauna as well. If you're feeling brave, you can also take a polar plunge in the river.
You can access the hot springs from 8 AM to midnight every day. It costs $20 for adults from Monday-Thursday and $24 on weekends and all holidays. Don't forget to bring a towel, because they're not included.
Speaking of Towelie – you guys wanna get high? If so, take a scenic drive. Their policy states you'll be asked to leave without a refund if you booze up or spark up on the premises.
This is a great spot to break up the road trip as they have campsites, dorm beds, private rooms, and even cabins with private soaking tubs. The three of us booked a room with two double beds for the night. Access to the tubs is included for guests, by the way.
Visiting St. Elmo Ghost Town
I feel I've never told you, the story of the ghost town. From the lodge, it's a very scenic and short trip to St. Elmo. This mining town was booming back in the 1890s, with around 2,000 residents at its peak.
When the mining industry shut down, so did the town. The railroad service into town stopped and everyone left in search of new places to mine gold and silver.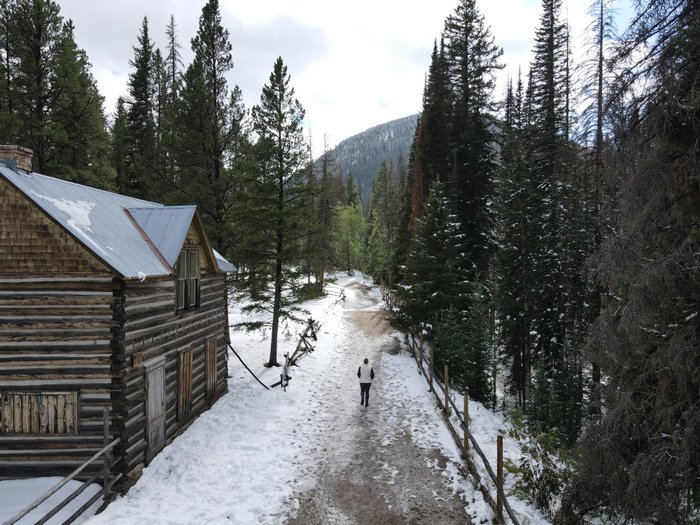 These days, it's a ghost town and a popular stop on road trips from Denver. We saw a group of bikers, but once they left we had the town to ourselves. It's definitely a fun place for photos and I enjoyed flying the drone there.
Most of the buildings remain closed, but the General Store is open during the day. There's also a nice-looking lodge and a campground up the road if you feel like lingering for a night.
Road Trips from Denver Disc Golf Courses
Our friend Dan, who joined us on this trip, is an avid disc golfer, so we had to get a few rounds in. We played a round at Confluence Park in Delta when we were visiting Black Canyon of the Gunnison. It's a nice park to visit even if you don't play.
After our trip to the ghost town, we also stopped at Poncha Springs disc golf course. It's a fun course even for novice players like us. The nearby town of the same name makes for a good pit stop as well if you're hungry or thirsty.
Unfortunately, we didn't make it to the Pueblo City course. We heard it's an awesome place to toss some discs so we'll just have to head there another day.
Looking for UFOs
On the way to the dunes, there's a very interesting pit stop that's worth checking out. The UFO Watchtower may seem like a cheesy roadside attraction, but it's way more than that!
Out here in the San Luis Valley, there's no light pollution, making for a very clear night sky. Over the years, there have been tons of UFO sightings and other paranormal activities.
Apparently, there are two different vortexes on site here. You can really feel the cosmic energy walking around the place. Be sure to bring something to add to the garden. We put a few crystals there as well as some stickers.
It only costs $5 to visit the UFO Watchtower (click here for directions) and it's worth it just to check the place out. It's also a campground with sites going for $15 a night per tent.
Are we earthlings or aliens? I don't know…
Great Sand Dunes National Park
Colorado may be known for the Rocky Mountains, but did you know it's also home to the tallest sand dunes in North America? Welcome to the Great Sand Dunes National Park.
The impressive dunes cover an area of 30 square miles and are up to 750 feet in height. They formed thousands of years ago thanks to the wonders of geology. It's actually a really fascinating story that you can read on the NPS website.
While the dunes have been a national monument since the Great Depression, they weren't granted national park status until 2004. It's still a bit off the beaten path and receives far fewer visitors than Rocky Mountain National Park.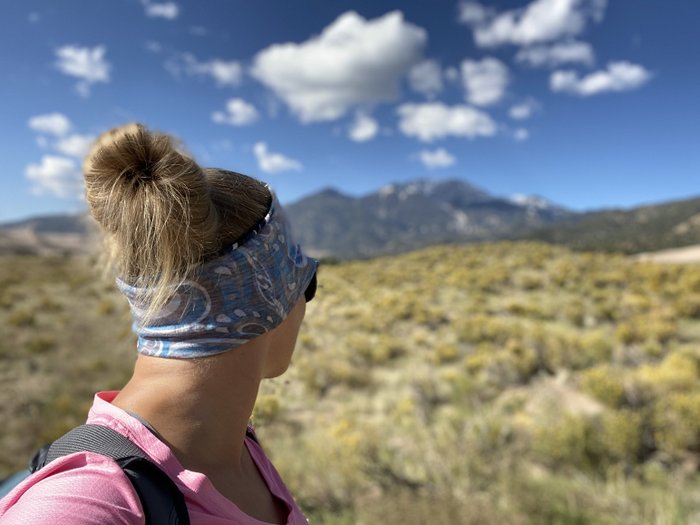 You can get a week-long pass for one vehicle for $25. It's also included in aforementioned America the Beautiful park pass. If you hit Black Canyon, Great Sand Dunes, and Rocky Mountain National Parks in one trip, the pass basically pays for itself.
The park is open year-round, but the weather can get quite extreme in summer and winter. We visited in early September and had to wait until the sun was on its way down to climb up the dunes.
Things to Do at Great Sand Dunes National Park
I'm not going to lie – when we first planned this trip I assumed the only thing to do here was climb the dunes. Boy was I wrong!
There are actually several forested and alpine trails to choose from. Jumping on one of these is a great way to beat the heat in the summer. We enjoyed hiking along the Mosca Pass Trail while we waited for the sun to begin its descent.
Some of these trails are easily accessible, while others require a trip on the Medano Pass Road. Just be aware that only 4WD vehicles can use this road.
Of course, hiking to the top of the dunes is high on everyone's list here. If you're a real go-getter, you can climb the Star Dune or Hidden Dune. At the moment, they are tied for the highest sand dune in North America.
After that tiring hike up, many visitors choose to zip down on a sand sled or sandboard. Don't show up expecting to rent one at the park, though, as you'll be disappointed. Stop at the Oasis Store on your way in to rent one.
We grabbed a few sleds and our buddy tried the board. While it was fun, we wish we had brought goggles and bandanas. Turns out careening down a sand dune results in getting sand in every orifice.
Another popular activity is swimming in the creek. This is only possible for a few weeks in May-June when the snow melts on the mountain and forms Medano Creek.
Last but not least, Great Sand Dunes National Park is a great place for some star gazing. The best time of year for this is late summer or early fall when there's a new moon. Full moon evenings are also a fun time to visit the dunes.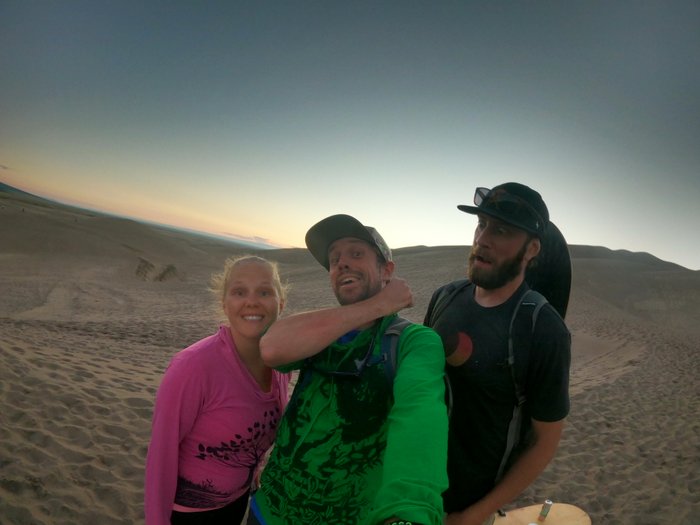 Where to Stay at Great Sand Dunes National Park
There is only one campground in the actual park. Piñon Flats is open from April to October and sites cost $20 a night. They can be reserved up to six months in advance at recreation.gov.
In addition, there are several campgrounds within a short drive. Check out this listing of nearby campgrounds from the NPS for more details.
For those not traveling with camping gear, you can check out the glamping options at Rustic Rook Resort or peruse the selection of hotels in nearby Alamosa. Here are a couple of good options we found:
We ended up booking a last-minute Airbnb in the hippie mountain town of Crestone. While the place seemed to be a work in progress, it was pretty awesome. It had an unfinished balcony on the 2nd floor that we laid out on at night for some epic star gazing.
The next day, we discovered a Buddhist pagoda down the road. Having visited many in our years living in Asia, we decided to go check it out. We took a short hike around the area and then enjoyed a nice moment of zen at the beautiful pagoda.
Climbing Bishop Castle
Last but not least on one of the best road trips from Denver, we checked out a real-life castle. Built by one man, Bishop Castle is like something out of a fairytale. There's even a fire-breathing dragon at the top!
Jim Bishop has been working on this castle for 60 years now and it's a pretty incredible story. Head over to the website to read it all before your visit. Chances are you'll run into him there, so come prepared with any questions you may have.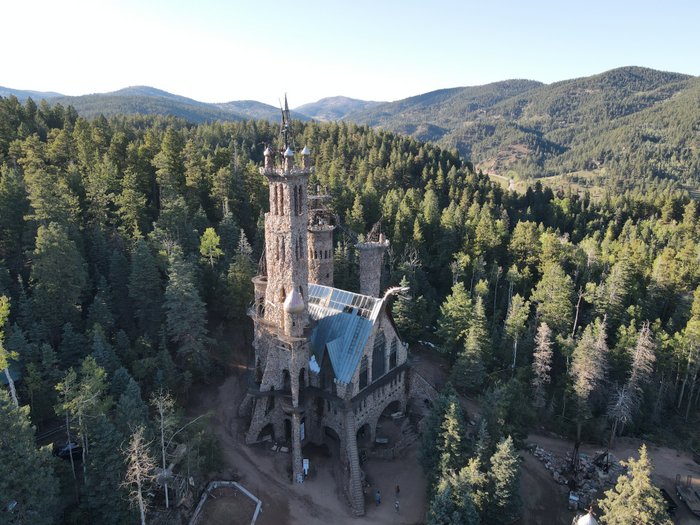 The castle is free to visit and you can climb all the way to the top. Just be warned that there are some steep staircases and somewhat terrifying bridges to cross. It's not for the faint of heart or those afraid of heights!
We made it to the top and enjoyed the panoramic views of the area. It seemed like a fitting end to an incredible road trip that can only be described as being "fiercely Colorado."
Final Thoughts
While we usually fly out to Denver for the end of Phish summer tour, this was a nice change of pace. It was great hitting the road and exploring all that Colorado has to offer instead of just partying in a parking lot. Not like there's anything wrong with that, of course…
In less than a week, we were able to visit two national parks, soak in hot springs, climb a castle, explore a ghost town, and look for UFOs. Where else in the world can you do that?!
Even though we ended up renting a car and staying in hotels and Airbnbs, we didn't break the bank on this trip. Of course, it helped that we brought a friend along for the journey.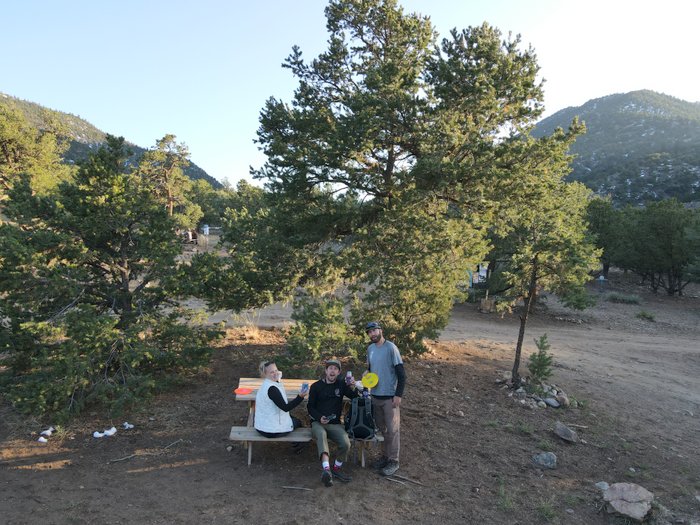 Since we had a kitchen for most of the trip, we saved money by cooking and drinking at home most of the time. We also went out a few times, as there are plenty of great restaurants and breweries along the way.
It's also worth grabbing the annual park pass instead of paying for each one individually. We ended up using it again on our Yellowstone and Grand Tetons road trip, so we definitely got our money's worth.
All in all, this was an epic road trip and one we would gladly take again. If you have any questions or comments, feel free to drop us a line! We're happy to help you plan your own fiercely Colorado road trip.
What are your favorite road trips from Denver?