There's a big difference between traveling as a backpacker and traveling as a digital nomad. We should know, as we have gone on two separate 7-month trips – once as carefree backpackers, and more recently as digital nomads constantly in search of fast WiFi and a place to work.
Traveling and working at the same time can be tough, and it takes a lot more effort than simply backpacking. In this post, I'm going to dive into our experience being digital nomads in South America. I'll cover some of the best places to base yourself, how we secured accommodation, and some of the challenges we faced on the road as digital nomads.
From Backpackers to Digital Nomads
A few years ago, we set off on a huge gap year adventure. We saved a ton of money teaching English in China and hit the open road with our backpacks. It was an amazing trip that took us to places like Zion National Park, Angkor Wat, and Bali. Having busted our asses for a few years saving, budgeting, and planning for the trip, we were able to enjoy it without worrying too much about work.
At that time, I was writing blog posts and editing short videos for Transparent Language, but we weren't teaching English online yet. As such, we were able to stay in hostels and go on plenty of multi-day adventures without really worrying about being online.
I was always able to catch up on my work, even if it meant sitting in our Airbnb for a whole week in Bangkok after 3 weeks in Myanmar, where the internet was basically non-existent.
Fast forward a few years, and we set off on another long, strange trip. After our first stint living in Puerto Vallarta and a few weeks back in the US, we flew down to Cartagena, Colombia on a one-way ticket. This time, however, we took remote jobs with us.
Before setting off as a digital nomad, make sure you have travel insurance.
We use and recommend SafetyWing, a company that specializes in providing insurance for travelers and digital nomads. Click here to check it out and sign up for just $40 for 4 weeks.
How We Became Digital Nomads
When we were living in Bali, Rachel came across a post about teaching English online for a Chinese company. She applied, got the job, and started teaching with VIPKID in our last few weeks on the island.
After she successfully completed her first contract and we realized this could be the key to location independence, I applied and jumped on board as well.
Originally, our plan was to seek out jobs teaching English in South America.
We knew we wanted to travel extensively in the region and learn Spanish, so I started looking at job postings in places like Peru, Colombia, and Chile. I soon realized that we could make much more and have far more freedom if we simply stuck with VIPKID and found a way to make it work.
In addition to teaching online, I was still doing a lot of work for the language company. At that time, I was writing posts and editing videos for the Chinese, Indonesian, Thai, English, and Spanish blogs. Between this and both of us teaching, we knew we could make enough to pull the trip off so long as we settled down temporarily in a few cities along the way.
Now let's dive into the planning and see how we figured out where to go as digital nomads in South America.
Planning Our Digital Nomad Adventure
For months before we hit the road, I was constantly researching places in South America where we could hunker down for a week to a month and get work done. We also made a Top 10 list of all the travel experiences we wanted to have in the region, and I set about trying to connect the dots.
Our slogan is "improvise your life," and that's precisely what we had to do on this trip.
When we arrived in Colombia, we had booked flights to Quito and then Lima, but that was it. We didn't know where we'd go in either country, where else we would travel to in South America, or how and when we were ending the trip. We had to be flexible and allow our plans to constantly evolve, which was liberating and stressful at the same time.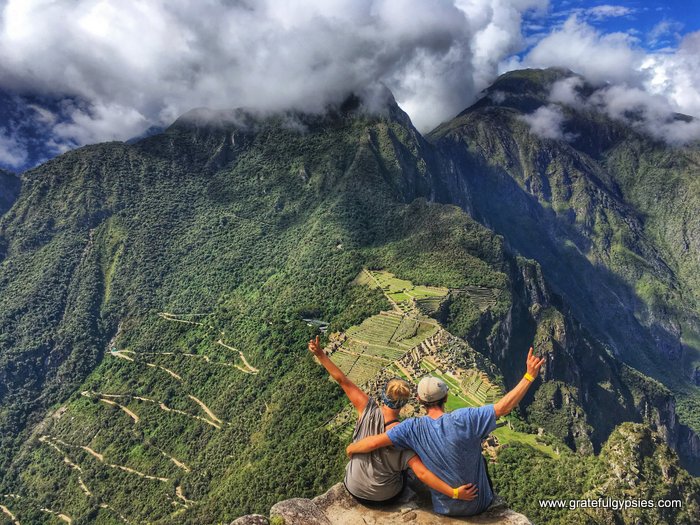 Anyone who has traveled in South America knows that it's not cheap or easy to travel between countries. It's way different than Southeast Asia, where budget airlines like AirAsia can take you from Bangkok to Bali for less than $100.
Thanks to a bit of travel hacking with airline credit cards, we were able to amass a ton of points and score several free flights along the way. 
So, where did we decide to work from and how did we find places to stay that could also be a home office/classroom? Let's take a look at some of the best locations for digital nomads in South America.
Best Places to be a Digital Nomad in South America
As a digital nomad, there are a few things you look for in choosing a temporary home base, namely fast and reliable internet, a community of like-minded people, and access to cafes or co-working spaces. Of course, you'll find these things in cities and bigger towns and not out in rural areas. That immediately narrows the list down quite a bit and makes the planning at least a little easier.
I'll get into our personal experience in a minute, but first here's a list of some of the best cities and towns for digital nomads in South America, grouped by country:
Obviously, I left quite a few South American nations off the list. We didn't visit Paraguay or Uruguay and don't know much about the digital nomad scene in either country.
Also, you don't hear of many nomads setting up shop in French Guyana or Suriname. If you know of some other good spots for digital nomads in South America, please leave a comment below!
Our Experience as Digital Nomads in South America
Now I'd like to share a bit about our experience traveling around South America as digital nomads. For this post, I'm going to focus mostly on the aspect of being a digital nomad and finding places to stay and work. I'll mention some of the epic travels we did in between and link to more detailed posts where we have them.
Colombia
After a short vacation in Cartagena that included visiting the amazing floating eco-hostel known as Casa en el Agua, we headed to our first digital nomad base in South America – Bogota.
Bogota
Where we stayed: In Colombia's capital city, we stayed in what has to be one of the coolest Airbnb spots ever. It's called the Man Cave, and it's a studio apartment with a separate TV room that also has an arcade game and a punching bag. How cool is that?
I realize I may have broken some Man Cave rules by letting my wife stay there with me, but she's a pretty cool lady. We stayed in the Man Cave for a week and really enjoyed our stay.
Where we worked: Since we only had a week in Bogota, we just taught from home and spent the rest of the day out and about. It was kind of a funny setup for us to both be able to teach in the Man Cave, but we made it work.
If you're looking for co-working spaces in Bogota, here are a few recommendations: 
Medellin
After our week in the capital, we headed to Medellin for a much longer stay. Colombia's Spring City is one of the biggest nomad hubs in the world thanks to its pleasant weather, low cost of living, and thriving digital nomad community.
Where we stayed: In total, we spent about six weeks in Medellin. During that time, we stayed in two different neighborhoods – Poblado and Laureles.
First, we rented a room in a shared apartment in the popular Poblado area. Our awesome host, Sam, has been living there for several years and he was a great resource for us as total newbs to the city. He was even nice enough to give us his room while we were there, as it had a desk one of us could teach at. We spent 10 nights at his place and then moved on.
When we were visiting Rachel's family in the US, I spent a lot of time looking for apartments for one month in Medellin. I eventually found a nice 1-bedroom place in the Laureles neighborhood that ticked all the boxes for us. I paid a deposit to the owner and locked down the whole month of October there.
Our total rent for the month was about $800 and included everything even high-speed internet and Netflix. There was a nice desk in the bedroom and a table out in the kitchen so we could both teach at the same time, which was crucial for us to be able to fund the trip.
The place we stayed in Medellin isn't on Airbnb, but if you're a digital nomad who doesn't need a classroom at 6 AM, we highly recommend staying at Selina. It's an awesome hostel with its own coworking space and a great place to meet people.
Where we worked: Since our classes were from 6-9 AM, we always taught from our apartment. With the rest of the day free, we sought out other places to go to get our blogging work done. This was our first venture into the world of co-working, which is huge in Medellin.
Since we were staying in Laureles for a month, we looked for co-working spaces in that area. That brought us to La Casa Redonda (The Roundhouse). It's a really cool space to work and it also has a rooftop terrace where they host events.
I was really used to just working at home, so I didn't jump right into co-working.
Rachel gave it a shot and bought a pass of eight flexible visits for about $65. If you want month-long access, it costs $130.
Colombia is famous for something that perks you up and gets you focused.
I'm talking about coffee, of course. What did you think I was talking about? There are countless cafes in Medellin where you can sit down to a nice cup of coffee, bust out the laptop, and get some work done. Some of our favorites include Pergamino, Cafe Zeppelin, and Botanika Cafe.
For more information, check out Rachel's awesome post on the best cafes and co-working spaces in Medellin.
Ecuador
From Medellin, we cashed in some miles to fly to Quito. For various reasons, we decided to just spend one month total in Ecuador.
The trip was bookended by digital nomad stints in two different cities – Quito and Cuenca. In between, we had some adventures in Banos and even went to the Galapagos islands for a week.
Quito
First up was a week in the Ecuadorian capital. With such a short time, we tried to balance work and travel as best as we could.
Where we stayed: In Quito, we stayed in a studio room in a local guesthouse called The Blue Door. The owner replied to a post I made in a Facebook group and was really helpful in sending me their internet speed and assuring we could use another room so we could both teach.
For our week-long stay, we spent about $200. The best part about staying at the Blue Door was interacting with the amazing family who runs it. They cooked us breakfast one morning, gave us tips for exploring the city, and even drove us on a kick-ass adventure to a national park and crater lake.
See The Blue Door on Booking.com
Cuenca
In Cuenca, we rented one of the nicest apartments we've stayed at from Airbnb. This 2-bedroom apartment is located above the law offices of the owners, and it's very well set up for digital nomads. The internet is super fast and there's a desk in one of the bedrooms, making it easy for two VIPKID teachers to have class at the same time.
For our week-long stay, we spent around $350. It was one of the most expensive places we stayed in on our trip, but it was well worth it. As we were gearing up to go to the Galapagos islands, we had a ton of work to do before disconnecting for a week.
We spent a lot of time in the apartment, so it was nice to have a comfortable place, especially one where we got to do our own laundry!
Where we worked: Since we only had a week in each city, we just worked from home while we were in Ecuador. Basically, we would teach for 2.5-3 hours in the morning, go do some touristy things, get lunch, and come back home to do blogging work for a few more hours.
If you're looking for co-working spaces, here are a few recommendations:
There are plenty of great cafes in each city, but we didn't bring our laptops along with us when we went out to explore. Since we had such a short time in Ecuador, we tried to not spend the majority of it glued to our screens.
Don't forget travel insurance!
Peru
After hanging out with blue-footed boobies and sea lions on the Galapagos Islands for a week, we flew to the Peruvian capital for a month-long stay.
Lima
Lima is definitely one of the best places for digital nomads in South America, and a friend had given us rave reviews about the city. We figured it would be the perfect place to base in between doing the Galapagos trip and heading further south to Patagonia.
Where we stayed: For our stay in Lima, I actually found a place that looked great on Airbnb. The problem was the cost. It was quite a bit out of our budget range at around $1,500 for the month, so I came up with an idea.
I messaged the host and explained that we wanted the place for a month but that I didn't want to pay the huge Airbnb fees. He agreed that if I booked a short stay, he'd block the month off for me and we could settle up when we got there. It still cost us a lot (about $1,200), but sending that message saved us $300!
The 1-bedroom apartment was really nice and well-furnished. Most importantly, it had a table that could be used as a desk in the bedroom and fast internet. It was a struggle finding a place that had both. I'm sure it would be much easier for a single person or digital nomads who don't need to loudly sing the ABCs early in the morning.
Oh yeah, and I should mention that this place also had two pools, a gym, and a rooftop terrace and lounge. Fancy! Unfortunately, December isn't the nicest time of the year in Lima and we only ended up using the pool twice in our month-long stay. We still enjoyed quite a few sunset beers on the roof, though.
Where we worked: Once again, we primarily worked at home. This was because I also signed up for Spanish lessons again, so I'd leave the house every day to go to the gym and have class, then come back home to do blogging work.
Rachel, on the other hand, decided to get out and work from several other places over the course of the month. She visited the Miraflores location of Comunal Coworking and tried a free day pass there. They don't list their exact prices online, but it says from $190/month for a flex spot. That may seem a bit pricey, but it's far cheaper than WeWork, whose monthly flex spot runs $270. 
The Miraflores and Barranco neighborhoods of Lima both have lots of excellent cafes to work from. A few of our favorites include Arabica Espresso Bar and Tostaduria Bisetti.
You can read all about them and more in Rachel's guide to the best co-working spaces and cafes in Lima. 
Cusco
Later on in our trip, we came back to Peru to finally check Machu Picchu off the list. Once we finished up our jungle trek, we spent a few days in Cusco to catch up on work.
Where we stayed: We use Airbnb all the time and have had very few problems. I always book places with good reviews and responsive hosts, and always stress the importance of having a reliable, fast internet connection. It almost always goes well, but unfortunately, we had a little problem in Cusco.
Arriving at our apartment exhausted from the trek, we quickly realized the internet wasn't working at all. We didn't have classes scheduled for the next morning, so it wasn't a huge deal. We alerted the host and went to bed, hoping it would get sorted the next morning.
After messaging and calling our host several times the next day to no avail, we decided to get Airbnb involved. Thankfully they were very helpful in resolving the manner, and within a few hours we were told we'd get a refund for the remainder of the stay and that we could seek out other accommodation.
It actually worked out in our favor, as the first place was kind of a dump and wasn't in a great location.
We managed to find this beautifully decorated studio with a private terrace at the last minute, and it was pretty affordable as well.
Where we worked: There's a nice workspace set up in the studio with a really comfortable chair, and it was the perfect spot for one of us to do VIPKID classes. The other one would sit at the kitchen table and work on blogging stuff, so we managed to be pretty productive there.
We only had a few days in Cusco, so we didn't bother seeking out co-working spaces. There are a few there, though: 
The city also has quite a few cafes where you could set up and work. We often went to Plaza Cafe just to grab a cup of coffee and look out onto the main plaza and saw people with their laptops working there every time.
Santiago, Chile
When I did the Darmasiswa program in Bali a few years ago, one of my classmates was from Chile. I told her we were going to visit eventually, and we did just that. First up, we started off the year-long party with New Year's Eve in Valparaiso. Then, we settled into a new home base in the capital of Santiago.
Where we stayed: As luck would have it, my friend's roommate had just moved out and she had an empty room! We stayed with her for a month before she began the search for a new roomie. It was great living with a local friend, as we got to go visit her parents' home in the 'burbs and have her show us around the city.
For the month in Santiago, we spent $600 on rent at her place in Providencia. This was the cheapest month as far as accommodation, but Santiago is definitely more expensive than other cities for food, transportation, and going out. 
After Brazil, we came back to Santiago for a week and got our own 1-bedroom apartment downtown. It was about $400 for the week, which was a little steep, but this place also has a rooftop pool and terrace and a great location.
Where we worked: During both of our stays in Santiago, we only worked at home. This was primarily because we wanted to save money, as we had a lot of big plans coming up – hiking in Patagonia and going to Brazil for Carnaval.
One thing I will say about Chile is that it's a perfect timezone for VIPKID teachers. Peak hours are from 7-11 AM, which is way better than 5-9! We thoroughly enjoyed being able to sleep at more normal times while we were there. 
Brazil
Next up was a major bucket-list item for us, as we headed to Carnaval in Brazil. As you may expect, we didn't get a whole lot of work done during the biggest party on Earth. That being said, we did put in a few teaching hours in between all the caipirinhas and samba dancing.
Olinda
Where we stayed: There were a few places we booked on Airbnb to get a few classes in along with a bit of blog work. First up, we stayed at an actual Bead & Breakfast in Olinda right before Carnaval started. Our private room worked as a classroom for one, so we took turns teaching in the morning after a massive breakfast.
Recife & Rio de Janeiro
We took a break from work for the big weekend of Carnaval in Recife and just stayed in a hostel.
When we got to Rio, we checked into another Airbnb spot in the Santa Teresa neighborhood.
This place is great, as they've set up private studios with their own bathrooms around a shared living room and kitchen. The WiFi was super fast and we had a table in the room where one of us could set up to teach. For $300 for four nights, it was a great bargain during the busiest time of the year in Rio. Seriously, two hostel dorm beds would have cost us more!
Florianopolis
Finally, we splurged on a beautiful cabin in the woods in Florianopolis. After the madness of Carnaval, we really needed a break from everything. As such, we didn't put in any teaching hours while we were in Floripa.
There was good enough internet, though, so you can still try and book a stay there if you're planning on getting some work done. Our little vacation there was amazing, and we wish we could have stayed longer.
See this amazing cabin on Airbnb!
Where we worked: We just taught a few classes here and there and did some minor blogging work while we were in Brazil. We moved around very quickly and didn't have a lot of time in the country, plus we were there for Carnaval. If you need to be more productive when traveling in Brazil, here are a few co-working spaces you can check out:
Bolivia
The last country on our digital nomad adventure around South America is Bolivia. We went there because visiting the Salt Flats was really high on our list of things to do, and decided to stay for a couple weeks. Most of our time was spent between the cities of Sucre and La Paz.
Sucre
After the amazing trip from the Atacama Desert in Chile to the Salt Flats of Bolivia, we needed a home base to charge our batteries and crush some work. As such, we headed to the beautiful city of Sucre for a week-long stay.
Where we stayed: This was hands down one of the nicest Airbnbs we've ever stayed in. We had a massive, very well-furnished 3-bedroom apartment all to ourselves. We even got to invite a friend we had made along the way to come and stay with us rather than cram into a hostel and still had an extra bedroom!
It was the first time I ever had a fancy coffee machine, and I took full advantage of it, making lattes and cappuccinos every damn day. For our week-long stay, we paid exactly $300. Considering I probably drank $100 worth of fancy coffees, I'd say it was worth it. 
Where we worked: Once again, we just worked from home. We were pretty exhausted, and we had this huge place with a nice coffee machine, comfortable places to work, and nice speakers to play music through. When you have a kickass home office, why look elsewhere?
Since we were in an apartment, we were a little bit out of the city center where most tourists stay. If you're down there, it's really easy to find a cafe to bust out the laptop and get a bit of work done. I didn't hear of co-working spaces in Sucre, but maybe one will open someday.
La Paz
One of the biggest surprises on our 7-month trip around South America was La Paz. We didn't quite know what to expect from the city, but we loved it and can't wait to get back to see more.
My personal highlight was watching the incredible cholitas women wrestlers. These ladies know how to throw down in the ring! We'll save that story for another day, though.
Where we stayed: In total, we only stayed four nights in La Paz. For the first three, we actually stayed in the guest bedroom of some fellow VIPKID teachers. They saw our post on a Facebook group and were nice enough to invite us to stay with them. It was cool staying with expats and going out with them to hear their take on life in Bolivia.
Before we headed out on the Peru Hop bus, we decided to stay a night at Loki Hostel downtown to make the early departure a bit easier. We got a private room at for about $25 and partied up on their rooftop bar for St. Patrick's Day, which ensured I started the trip with a brutal hangover. Whoops.
Where we worked: Our gracious host has an office set up specifically for VIPKID, so it was the perfect place to teach from. She did her usual three classes before heading to work, and then Rachel tagged in for a shift. I worked from the desk in the guest bedroom and we had no issues.
Since we only had a few days in the city, we spent most of our time doing things like walking tours and hiking. We managed to squeeze a little bit of blog work in from our host's place, but we had gotten enough done in Sucre to relax a bit.
Tips for Digital Nomad Travel in South America
Overall, I'd say our first big adventure as digital nomads was a success. It wasn't always easy, and it took a lot of hard work to pull it off, but we did it. We even managed to check off every item on our South America Top 10 list except for one (Easter Island).
Based on our experience, I'd like to share a few tips with you on being a digital nomad in South America.
Longer Stays are Better
When you're traveling and working at the same time, you can burn out rather quickly. Trying to see all the sights and get work done in a couple of days is draining. As such, it's much better to stay somewhere for a week to a month if you're going to be working.
We found that even our week-long stays went by way too fast. In the three cities where we spent at least a month – Medellin, Lima, and Santiago – we were very productive with both work and travel. We even signed up for gym memberships and I took Spanish lessons. Of course, we also got a better price on accommodation by staying for so long.
Airbnb is Your Friend
We love staying in hostels, but that's just not really feasible for two VIPKID teacher digital nomads. As such, we relied heavily on Airbnb to get through this trip. There are tons of listings on Airbnb all over South America, from renting a room in somebody's place to private apartments. By booking for a week or a month, you'll most likely get a good discount as well.
In our 7-month trip, we only had one issue with an Airbnb booking. The place we booked in Cusco for after our Machu Picchu trek didn't have functioning WiFi, which we had made very clear was of the utmost importance during our stay. When the host didn't do much to remedy the situation, Airbnb canceled the rest of the booking, refunded us, and even offered to help us find a new place.  
Make Use of Facebook Groups
There are Facebook groups for just about everything these days. I joined a lot of groups specific to some of the cities we visited in South America and found them to be very useful. This is how I found our places to stay in both Medellin and Quito, and I managed to save us quite a bit of money by booking directly with the owners.
In addition to finding a place to stay, these FB groups can be a great resource for any questions you might have about the city. You can also find out about meet-ups and other social events that definitely help when you're a digital nomad on the road.
Here are some of the FB groups we used:
Challenges of Being a Digital Nomad
While we thoroughly enjoyed our digital nomad adventure around South America, we most certainly had our fair share of challenges along the way. Here are just a few of them:
Finding a Place
Although Airbnb and Facebook groups helped us immensely in finding places to stay and work, it was always a struggle to find a place that checked all the boxes.
Since we both had to teach at the same time, we needed places with good enough internet to support two video calls at the same time. We also needed two workspaces separated by a door so we didn't hear each other.
I typed up a generic message I could send to every host on Airbnb, but you'd be surprised how many of them just couldn't seem to figure out how to run a speed test, or who just didn't respond. This shouldn't be a problem for digital nomads who aren't teaching English online, but it sure was for us.
Read more: 11 Things No One Tells You About Digital Nomad Life
Trying to do it All
When you're traveling in a new place, you obviously want to get out and do some sightseeing and maybe partake in a bit of the nightlife as well. However, if you have to get up at 5:30 in the morning to teach, it becomes very difficult to do all that.
Not too long into our trip, we realized we could do two of these three things – work, see the sights, and/or go out and be social. For the most part, we ended up just working and sightseeing. With such an early wake-up call most days, we just didn't have the energy to go out much. This most likely had something to do with the next challenge we faced…
It Gets Lonely
We're fortunate enough to have each other, but even so life can be lonely for a digital nomad. When you're moving every week or month and spending a lot of your time working, it's hard to make friends.
Of course, we met plenty of awesome people along the way and even bumped into a few new friends at several different points. That being said, it was really just the two of us most of the time. Obviously, we could have been more social had we stayed in hostels, but as I've already explained that just didn't make sense most of the time because of our jobs.
Final Thoughts
In conclusion, we're both glad we did what we did and we wouldn't really change much about our trip. We were thrilled to finally have location-independent jobs and take them out on the road with us. Being able to travel extensively throughout the continent and check a ton of bucket-list items off was an amazing experience, regardless of how tough it was at times.
After that huge trip, we had to settle down for a bit. That's why we moved back to beautiful Puerto Vallarta for six months. It's been nice having more of a routine, getting comfortable in a place, and finally making some friends. Of course, being the perpetual travelers that we are, those itchy feet flare up again.
We'll be hitting the road again in January after spending the holidays at home. This next trip won't be quite as long (probably 4 months instead of 7), and we won't have so many "must-do" experiences on our list.
Rather, the focus will be to choose two different digital nomad hot spots to use as a home base for a month and then fill in the middle with some adventures. We're hoping to return to Colombia and finally visit Central America, with Panama, Costa Rica, and Guatemala high on the list.
It's amazing that we can do what we do. A few years ago, we would have found it hard to believe that I'd soon be able to keep my job teaching English in China but bring it around the world with us. We're thrilled to be living the digital nomad life, even with all of the ups and downs it entails. It sure beats sitting in a cube for 40 hours a week!
If you have any questions or comments about being a digital nomad in South America, please leave a comment below or send us an e-mail.
More Posts About South America:
Yay for transparency! This post may contain affiliate links. If you purchase something through our link we will earn a commission at no extra cost to you! The earnings go towards running this site. Thank you for your support!
Pin It For Later!