Teaching English online is one of the many ways to earn money from your computer. Many companies are hiring teachers to teach ESL online. It's how we were able to quickly transition into digital nomad life and earn an income while traveling the world. So we've compiled the best online English teaching jobs to help you get started.
The online English teaching world has grown exponentially in recent years. The surge in popularity is great for experienced English teachers taking their skills online. However, it also brings about scammy companies looking to cash in on the online education boom.
There are so many online teaching jobs. This list will help you cut through the noise and find the best online English teaching job for you.
Why Teach English Online
There are lots of reasons to teach English online! But one of the biggest reasons is that you can earn decent money from your living room or anywhere with a WiFi connection.
Teaching English online is a great way to earn money while you travel. We became digital nomads thanks to our jobs teaching English online.
We've spent the last three years bouncing around to different countries and setting up temporary bases in places like Puerto Vallarta, Medellin, Lima, Santiago (Chile), and Antigua, Guatemala all while earning a steady income.
Even if you have no desire to travel, teaching English online is still for you if you are:
a stay-at-home mom/dad who wants to earn some extra cash
a university student working towards a degree
recently retired but still need something to occupy your free time
tired of working in an office, want to escape the rat race and move somewhere exotic like Bali
Teaching English online (or in general) is very fulfilling work and that's why I like it so much. It's versatile – you can treat it like a side-hustle for some extra cash or you can do it full-time and make it your main source of income.
And many of these online English teaching jobs are hiring so you can get started right away!
What Skills Do You Need to Teach English Online?
Now that we got that out of the way, let's talk about your other skills. Can non-native English speakers teach English online?
The answer is yes if you speak at a C2, or fluent, level.
That being said, you'll have to work harder to earn as much as native speakers.
I know, it's not fair. Personally, I think non-native English speakers make better English teachers because they understand what it's like to learn English.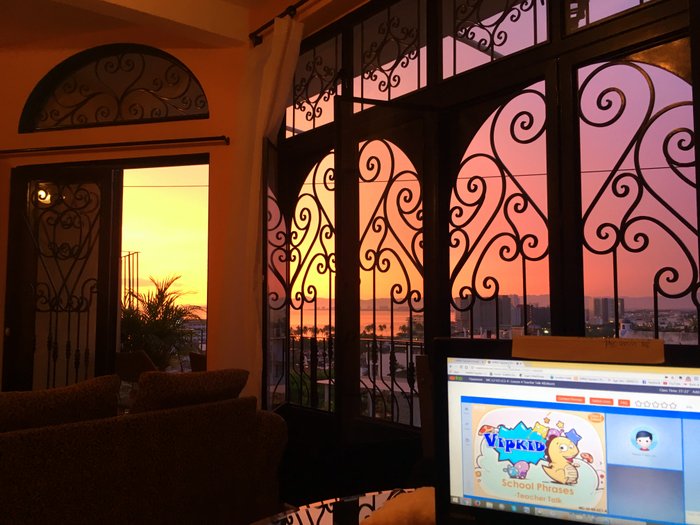 Requirements for Teaching English Online
There are some standard requirements that most of the best online English teaching jobs have. They are:
Many of the online English teaching jobs will list "Teaching experience preferred" in their requirements, but don't worry if you've never taught in a classroom before. They have a loose definition of teaching experience. Any experience that you have with children (or adults) where you were in a supervising role can count as teaching experience.
Most of these online English teaching jobs will require a Bachelor's degree. However, it can be in anything.
I have a BS in Music Industry Studies and Sasha's degree is in Telecommunications. We've both been teaching English abroad and online for more than a decade.
Can You Teach English Online Without a Degree?
The answer is YES!
I have sorted the best online English teaching jobs below into ones that do require a Bachelor's degree and ones that don't.
More and more online English teaching companies are starting to require a teaching certification such as a TEFL, TESOL, or CELTA.
In fact, all of the companies based in China now require a teaching certificate due to new laws passed by the government in March 2019.
If you don't have a Bachelor's degree, I highly suggest you get a TEFL certificate so you have some credentials. It also shows companies that you will take the position seriously and that you know how to teach the English language.
The fastest way to get a TEFL Certificate is to take an online course. There is a wide range in pricing and the number of hours in the courses out there. There are also a lot of things to look out for.
What You Need to Get Hired with the Best Online Teaching Jobs
You don't need much to teach English online. Some of these online English teaching jobs may have more things that they would like you to have such as a certain color t-shirt but for the most part, here's all you need:
a fast, stable internet connection
computer
webcam
headset with an external mic (like this one)
some extra props like a
a bright and cheery attitude
That's it!
If you wanted to get hired with one of the online English teaching jobs that allows you to teach from anywhere, you would need to get some supplies for your remote classroom.
But if you plan to work from home, the above list is all you need.
What Are The Best Online English Teaching Jobs?
Finally, the moment you've been waiting for! If you want to teach English online, this is the list you need!
Twenix – Twenix may be smaller than other known platforms, but it really stands out for its flexibility and ease of use. Classes last for just 26 minutes, and the focus is on pure conversation as teachers speak with our students, European business professionals.
From day one, the Twenix platform allocates students to available Tweachers purely based on availability, so there's no need to market yourself or drop your prices in the beginning. All of the class content you will need has already been created by the Twenix team, so you do not need to do anything to prepare for your classes other than to quickly review the provided materials.
You can get bookings up to 15 minutes before the class, which makes it easy to pick up extra classes whenever the teaching mood strikes. And when life happens, no worries; you can easily transfer your booked classes to other Tweachers at any time without penalty. The pay rate is up to €13.
Check out our post about the Twenix experience!
VIPKID – Based in Singapore, this is the company that made teaching English online a desirable work-from-anywhere job.
You must be American or Canadian. You will earn a base pay of $14 per hour with opportunities for incentives that can raise your wage to as high as $20 per hour. They offer a flexible schedule with no minimum requirements.
Check out our review to learn more about teaching with VIPKID.
Open English – This is the biggest platform and most widely used throughout Latin America. Founded in Venezuela, they provide the lesson materials, and classes are available 24/7.
You don't need a degree but you do need to have 1 year of teaching experience if you don't in order to be considered. You must also have a TEFL certificate. Preference is given to candidates that can speak some Spanish or Portuguese. The pay is up to $15 per hour and you need to be available for a minimum of 10 hours a week.
Cambly – This is the most well-known online tutoring company. You can set your own schedule and tutor both kids and adults from all over the world.
It's easy to get started and it pairs well with China-based platforms. The pay is $.17/minute, totaling $10.20 per hour.
They hire on an as-needed basis and will get in touch if you're qualified.
Lingoda – Located in Berlin, this platform focuses on language learners in Europe. In addition to English, you can also teach French, German, or Spanish if you're fluent in those languages. They provide lesson plans.
A TEFL certificate and 2 years of teaching experience are required. They pay $8-$13 per hour.
Skimatalk – This company is based in Japan. You make a profile and set your own pay rate. 20% of your pay goes to Skimatalk. You take home 80% of your earnings, minus PayPal fees.
Students are from all over the world. You do not need a teaching certificate nor prior experience. You simply need to be passionate about helping students.
Tutlo – This platform is based in Poland. You can choose to tutor children, teenagers, adults, or business English. All classes are 1-on-1 and they provide the lesson materials.
You must be a native English teacher and hold a teaching certificate such as a TEFL. The classes are 20 minutes long and you can teach on-demand. Pay is $5-$9 per hour.
PalFish – This is a mobile app that allows you to teach on your smartphone or tablet. The free talk teacher position is open to non-native English speakers.
Click here for instructions to apply.
Hallo – This platform is based in Utah and provides a platform where teachers can create their own online teacher business all within the same place without having to source students or figure out a way to take payments. There are several different ways to teach on the platform; start by doing live streams. These are free but it's how you can build a following of students to invite to book your private or group classes.
For the private classes, you set your own rate. For group classes, you can make up to $60 per hour. You must be a C1 level English teacher and able to legally work in an English-speaking country, have a TEFL certificate, and a year of teaching or tutoring experience.
Online Teacher Marketplaces
italki – This is an online tutoring platform where adult students choose their teacher. You create a profile and set your own prices. It's up to you to figure out how to rank at the top of the list of teachers.
There are a couple of options within the platform as well as a few other tips and tricks to know. You must also create your own lesson plans but you can teach anything you want from business English and test prep to casual speaking practice.
Preply – You set your own hours, rates, and time zone. Then students search for teachers who meet their requirements. You can also teach other subjects or languages.
You choose what areas of English you want to teach i.e. business English, IELTS prep, conversational, etc. and provide your own lesson plans.
Langu – Langu's mission is to connect eager students to great teachers. You can teach English, Spanish, German, and several other languages. Their students are mostly in Europe.
They classify their learning goals into three different categories: Life (for general learning and travel), Career (for work), and Education (for getting ready for exams and higher education). You can set your own price and provide your own lesson plans and learning materials. Classes take place on their platform. Click here to apply.
I really enjoy teaching with Langu! Check out my Langu Review.
Latin Hire – This is not a School per se but an education outsourcing company that recruits and manages teams of teachers for several online schools.
ESL teachers earn between $8 and $13 per hour depending on the time and day of the week they teach. They have hours that can be complementary to your work at VIPKID or other Asian schools.
*Please note that you must be living OUTSIDE the USA or Canada in order to apply with Latin Hire. If your application indicates that you meet any of their search criteria, they will contact you within 5 business days.
Best Online Teaching Job That Is NOT ESL
Outschool – Outschool is an online learning marketplace where teachers can offer live classes to kids ages 5-18 through Zoom on a number of topics. Unlike other platforms in this post, the students are all over the world. The classes are taught in English but they are not ESL classes. Outschool was founded in 2015 and is based in San Fransisco, CA.
You DO NOT need a Bachelor's degree or teaching experience. All you need is to be 18 years old and from the USA, Canada, Australia, New Zealand, or the United Kingdom. You set your own rates and prepare your classes.
Choose the Best Online Teaching Job For YOU
There you have it! That's our list of the best online English teaching jobs.
But how do you choose the one that's best for you? First, think about exactly what you are looking for.
Do you need more flexibility? Or are you okay with a fixed schedule? Next, write down the pros and cons of each online teaching job that you qualify for. Finally, do some research and see what other people are saying about these online teaching sites.
I've done a ton of research and these are the most reputable online teaching sites but everyone's experience is different. It's good to be aware of the experience other people have had with these online teaching companies. Just remember that everyone's experience is subjective.
Furthermore, it also doesn't hurt to apply to multiple online teaching sites. Many teachers who teach ESL online teach with multiple companies to keep things fresh and round out their teaching schedule.
The Best Online English Teaching Jobs for Travelers
Teaching English online is what allowed us to jump-start our digital nomad lifestyle. If you crave a lifestyle of freedom to live and travel anywhere you want, you definitely want to make sure you go with an online teaching company that will support that. Not all of the ones listed in this blog post are good for traveling.
If you're ready to learn how to combine your online English teaching job with a lifestyle of travel and work from anywhere, we have a few different resources to help you do that.
How to Start Teaching English Online and Travel Full-Time
We've been teaching English online since 2016. It has allowed us to fulfill our dreams of becoming location independent and traveling the world on our terms.
We want to help you do the same!
If this is your goal, then my free e-book is perfect for you!
The free FREE e-book is called "How to Travel the World as an Online English Teacher."
It's packed with actionable information that you can use to start your digital nomad lifestyle.
If you've been daydreaming about steering your life in a different direction so you have more FREEDOM to do the things you love, this could be the perfect way for you to jump-start that new lifestyle!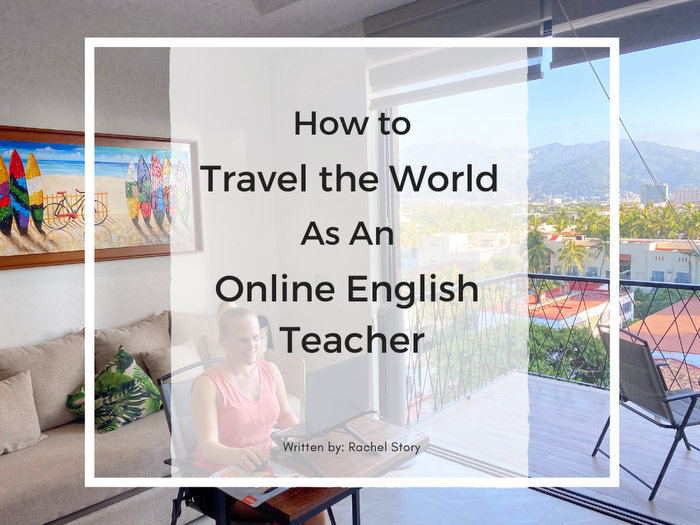 Fill out the details below and we'll send it straight to your inbox.
Final Thoughts
Whether you want to work from the road or at home, teaching English online is a great way to do just that. I hope this post has helped you find the best online English teaching job for you!
This is a living post that I update often. I always have my ear to the ground in the online teaching world in order to provide the most accurate and up-to-date information. So bookmark this post and check back often!
If you download my ebook above you'll also be subscribed to our newsletter which means you'll never miss an update about an online teaching job.
Thank you for reading to the end! If you have any more questions feel free to contact me or leave a comment below and I'll do my best to help you out.
Cheers!
Pin It For Later!