They say time flies when you're having fun, and that old adage definitely rings true for us this week. It's been 10 years since we became a traveling couple – a decade that went by in the blink of an eye. Most people have their first date at a restaurant. Ours was on Phish tour. After seeing Phish play in Knoxville, we headed up the road to Bonnaroo and we've been going strong ever since. In that time, we've lived in three different countries and traveled to over a dozen others. In this post, we'll take a look back at our 10 years as a traveling couple and share our Top 10 experiences.
10. The Summer of Bruce
Back where it all began at Bonnaroo in 2009, the headliners were Phish and Bruce Springsteen. It's rare that you get to see your favorite band and your mom's favorite band at the same festival, but that's what happened for yours truly at the 'Roo in '09.
On Sunday night, Phish actually brought The Boss out for a few songs. It was a legendary sit-in to cap off a fantastic weekend of music. I would go on to jokingly refer to summer '09 as the "Summer of Bruce." I even wrote a memoir about it, but let's just say it's not exactly internet appropriate!
For the next few months, we traversed the country seeing Phish shows and going to music festivals.
We saw Phish 13 times in 8 states, including trips to both Red Rocks and the Gorge – the two most beautiful music venues in the United States. Being able to see our favorite band at these venues remains a major travel highlight for both of us.
To say that this was a life-changing experience would be an understatement. We started dating while living out of Rachel's car, sleeping in tents and on friend's couches. Our serotonin was often depleted, and there were all-nighters spent driving across the mind-numbingly boring landscapes of places like Ohio and Nebraska.
Somehow, we managed to come out of that summer in tact. If you can live with someone on tour, you can probably live with them in real life!
They say '69 was the summer of love, but '09 was our summer of Bruce. It was the foundation of our relationship and a preview of things to come, as we spent the next decade traveling and seeing live music together.
9. Camping on the Great Wall
After a failed attempt at living in Tennessee together, we decided to teach English in China. The chaotic urban sprawl of Beijing became our new home, and we ended up spending 3.5 years there.
While our teaching jobs were quite busy, we always found time to get out and explore on weekends and holidays.
Chairman Mao once said, "You aren't a real man until you've climbed the Great Wall."
Well, I say "You aren't a real traveler until you've camped on the Great Wall!" That's precisely what we did in the summer of 2013, and it's definitely one of our coolest travel experiences.
Armed with a tent, sleeping bag, pillows, some snacks, a bottle of wine, and some fun-guys, we headed out into the Beijing countryside to reach the Gubeikou Great Wall. It's a remote section of the wall and is crumbling in many areas. It's absolutely stunning, especially around sunset.
Once the sun went down, we found ourselves alone atop one of the Seven Wonders of the World.
We gazed at the stars and slept in a watchtower, awakening bright and early to watch the sunrise. It was an unforgettable experience and a major highlight of our time living in China.
Read all about it in our guide to camping on the Great Wall.
8. A Quick Trip to Japan
Speaking of the sunrise, we headed to the Land of the Rising Sun in 2012 on a quick trip. We took full advantage of the flexibility of our teaching jobs by taking five days off to head to Japan. After a few years of busting our asses, we were finally in a position to travel to this expensive country.
As you may have noticed by now, we plan much of our lives around seeing music.
That's precisely why we headed to Japan, as one of our favorite bands (Lotus) was doing a mini-tour there. We decided to catch their show in Tokyo and spend a few days outside of the city up in the mountain town of Hakone.
Since we only had a few days, we made them count by staying in a traditional ryokan with a gorgeous mountain view. They served us a massive breakfast and dinner each day, and we also had access to our own private onsen (natural hot tub).
Speaking of the hot springs, we went to an onsen theme park where we soaked in green tea, coffee, red wine, and sake. It was just as awesome as it sounds!
In Tokyo, we hit the fish market for a massive sushi breakfast, joined the hordes at the Shibuya crossing, and even saw the sumo tournament. We barely scratched the surface of this fascinating city and can't wait to get back there.
Lotus crushed it, by the way, and the Japanese fans went wild for them. It was so cool seeing one of our beloved jambands rock a packed house in a foreign country.
7. West Coast Road Trip
While it was a great feeling being able to take off for a week to travel to Japan, it was an even better one when we quit our jobs to embark on a gap year trip. We thought gap years were just for 18 year old British kids, but it turns out they're just as fun for 28 year old American hippies!
After tacking on extra hours and some careful budgeting, we managed to save $25,000 teaching English in China.
Some people would use that money to make a down payment on a house. We used it to travel.
Our first stop was San Francisco, where we went straight to the Grateful Dead Meet-Up at the Movies with all of our luggage. Jet-lag wasn't going to stop us from missing this gathering!
The next four nights were spent seeing Phish – three shows in San Fran and then one at the Hollywood Bowl. While in LA, we also spent a few days at Venice Beach with friends.
From there, we rented a car to hit the Joshua Tree for a few nights of camping and hiking.
Up next was a cheeky trip to Vegas. Neither of us gambles, but we had a great time in Sin City riding the roller coasters, seeing shows like Cirque du Soleil, and taking in the bright lights of the Strip with our friend Lucy.
After Vegas, we rented a car to go on an epic national park tour. We hit the Grand Canyon, Zion, Bryce Canyon, Arches, and Canyonlands. While in Moab, we also did some rappelling, white water rafting, and SKYDIVING. Free falling above two national parks is probably the coolest thing either of us has ever done!
The trip wrapped up in Colorado, where we visited the Rocky Mountains and saw three more nights of Phish. My brothers and college roommates were there, as were Rachel's mom, step-dad, and brother. It really was a phamily affair!
After a few years of living abroad, it was great getting the chance to explore our own country a bit.
6. Hong Kong to Kunming
At the tail-end of our gap year, we traveled from Hong Kong to our new home of Kunming overland.
Hong Kong is one of our favorite cities to visit. It's beautiful, there's a lot to do, and the food is out of this world. We've already been a few times and are always looking for an excuse to go back.
From there, we crossed the border back into mainland China to visit some friends in Shenzhen. This was a sleepy fishing village just a few decades ago, and it's now one of the biggest cities in the world.
Welcome to China!
We crossed a new province off our list next by traveling to Fujian. First up, we met my brothers and their buddy in the coastal city of Xiamen. While there, we spent a few days exploring the island, feasting on seafood, and finding random bars to hang out in.
The main reason we traveled to Fujian was to visit the famous tulou villages. These massive circular compounds traditionally housed several hundred people and they're fascinating places to explore.
Unfortunately, most of them have become tourist attractions or have simply been abandoned, as young Chinese would rather live in bland high-rise apartment buildings in the city.
One of my absolute favorite places in China is the small town of Yangshuo. It's famous for its karst mountain peaks that tower above the Li River, scenery so famous that it's on the back of the 20 RMB note.
While the town is somewhat of a tourist trap, it's easy to escape the crowds on a bicycle or motorbike.
We spent a few days cruising around, admiring the stunning landscapes and trying local specialties like beer fish. Of course, we also took a bamboo raft up the Li River.
There's an epic show that takes place on the river called Impression Liu Sanjie. It features hundreds of performers and is quite the spectacle. Just see for yourself…
Finally, we headed up to the Longji rice terraces for a few days of hiking and relaxing. It was the perfect end to our whirlwind gap year trip as we got ready to settle into our new home of Kunming.
5. Fare thee Well
After a few short months in Kunming, a few exciting things happened.
First of all, I dressed up like Santa and rode the train all the way to Beijing. We each spent Christmas at home with our families and then met up in Miami for the Phish New Year's run, where we got engaged during the midnight countdown.
When we got back to China, it was announced that Trey from Phish would be joining the surviving members of the Grateful Dead for a 50th anniversary celebration called "Fare thee Well."
Obviously, we HAD to be there. We set about planning our wedding while keeping the shows in mind, hoping we would be able to score tickets.
Travel packages for the shows went on sale on Rachel's birthday, so we figured we'd give it a shot. We have plenty of couches we can crash on in Chicago, but decided it was worth it to splurge on this one.
As luck would have it, we managed to score a package that got us in the door for all three nights plus a stay in a 4-star hotel!
Immediately upon our arrival at the hotel, it was clear that Deadheads were taking the place over for the weekend. Tye-dyes were everywhere, the hallways smelled like my dorm room, and it looked like a birthday party was going on out in the street.
As far as the shows, they were incredible. While some Deadheads bitched about the choice of Trey, we were obviously quite pleased with it! Seeing our two favorite bands ever combine forces for a blowout celebration over the 4th of July weekend is definitely one of our top live music experiences.
4. Thailand & Laos – Our First Backpacking Trip
When we moved to China, we were basically flat broke. We crashed with a friend while we looked for jobs and spent our first 6 months saving up to move into our own place.
I eventually landed a high-paying gig at a university and we moved into an awesome 3-bedroom apartment with a friend. With a month-long winter holiday approaching, we decided to head to Southeast Asia on our first backpacking trip.
Rachel bought me the Thailand Lonely Planet that Christmas, and we both got matching (knockoff) Northface backpacks from the market in Beijing.
We were total n00bs and had no idea what we were doing – we just had a flight into Bangkok and then one out of Vientiane and a month in between.
Looking back on that trip cracks me up. I like to consider ourselves fairly savvy travelers these days, but we didn't have a f*cking clue back then!
Here are just a few of the hilarious mistakes we made on that trip:
I wore shorts to the Grand Palace in Bangkok and had to buy goofy elephant pants just to go in.
We went to a "ping pong show" in Patpong. Google it if you don't know what that is. Or don't, actually.
Let's just say we took the wrong intoxicant at the Full Moon Party and had an interesting experience.
We drank three buckets in Koh Phi Phi and got absolutely shitfaced.
Rachel left cash in her bag under the bus and most of it was stolen.
We took a pretty terrible day tour in Northern Thailand that visited what was basically a human zoo.
In Vang Vieng, we went tubing but forgot the tubes. Rachel took one shot of Lao Lao and then spent the whole day throwing up.
Based on those bullet points, you might think that trip was a complete disaster. Far from it! We had the time of our lives and absolutely fell in love with backpacking and Southeast Asia. As soon as we got back to Beijing, we set about planning our next trip and even talked about moving to the region (more on that later).
Some bumps in the road are inevitable when you travel long-term on your own in an unfamiliar land. F*ck-ups are just a part of travel, especially at the beginning.
I'm happy to say that we learned from those mistakes and were able to redeem ourselves on our 2nd trips to the Full Moon Party and "in the tubing" a few years later.
When looking back on how the last decade has gone for us, it's obvious that this backpacking trip to Thailand and Laos was a turning point for us.
Before that trip, we both thought of travel as something you do in short spurts that are planned out in advance. Our Southeast Asia adventure turned us on to the "go with the flow" style of backpacking and we were hooked!
3. The Atacama Desert to Machu Picchu
Fast forward six years, and we were on the other side of the world on yet another long-term trip. This time around, though, we were digital nomads. Traveling as a digital nomad is way different than being a backpacker – just read Rachel's post about it.
Instead of staying in hostels, we had to look for private Airbnb apartments due to our jobs teaching English online.
Rather than breeze through destinations in a few days, we had to stay places for a week to a month in order to get work done. Gone were the wild nights as we had to get up at 5:30 AM for our classes. Needless to say, it was quite the adjustment!
When we made plans to head back to the US for WrestleMania and our friends' wedding, we realized that we had to sprint through the end of our South America trip.
This gave us the chance to unleash our inner backpackers again, as we put work on the back-burner to cross a few more things off our bucket lists.
After a month-long digital nomad stint in Santiago, we flew to northern Chile to spend a few days exploring the Atacama Desert. From there, we headed out on a 3-day trip overland to visit the Salt Flats of Bolivia. Along the way, we passed some other-worldly landscapes and had one hell of an adventure.
Next up was a week in the beautiful town of Sucre, where we caught up on laundry and work a bit. We also visited a Bolivian version of Jurassic Park, which was pretty cool.
From there we headed to La Paz for a few days, where we saw the amazing cholitas wrestlers and visited a witch doctor. We stayed in a party hostel on St. Patrick's Day and had our fill of Jameson and Guinness before setting out far too early the next morning. Whoops.
With the clock ticking on our time in South America, we decided to hop on the bus. The Peru Hop bus, that is.
Our first stop was Lake Titicaca, where we enjoyed a day of hiking on Isla del Sol. After crossing the border, we traveled to Cusco.
We crossed a big-ticket item off our list next – Machu Picchu!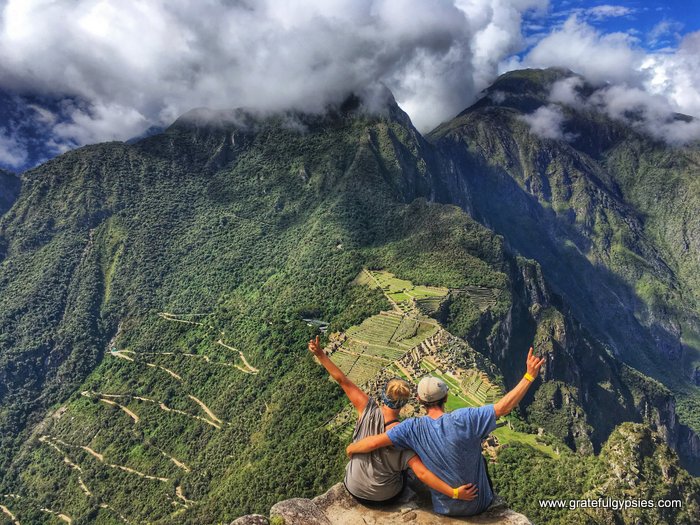 Our 4-day trek included some biking, hiking, zip lining, and soaking in hot springs. We got up at 3 AM in order to make it to Machu Picchu for sunrise, and it was well worth it.
Words cannot explain the feeling when you first gaze upon the Ancient City of the Incas.
Overall, the trip from the Atacama to Machu Picchu was the highlight of our 7-month trip in South America. It reminded us that we need to have more of a work-life balance on the road.
On our next big trip (hopefully to Europe!), we're going to try and find a happy medium between being backpackers and digital nomads.
2. The Island of the Gods
In our 10 years as a traveling couple, no place has had more of an impact on us than Bali.
We first traveled to the Island of the Gods in 2012 on a short vacation from Beijing. As is the case with so many visitors to Bali, we fell in love with the place and never wanted to leave.
On our last night in Bali, I sat on the terrace of our villa in Nusa Lembongan and questioned why we were traveling back to smoggy Beijing.
"Because we have jobs and an apartment," was Rachel's reasonable response. "What if we didn't have those things?" I chimed back.
That was the impetus for quitting our jobs, leaving our nice apartment, and hitting the road on a gap year.
During said gap year, we flew to Indonesia from Kuala Lumpur and traveled overland from Jakarta to Bali.
Along the way, we climbed a few volcanoes, went on a motorbike adventure, and saw the blue fire of Kawah Ijen. If we had a crush on Indonesia before, this trip is what made us fall in love with the country.
Back in Bali for the 2nd time, we got out of the tourist bubble and explored more of the island.
I surprised Rachel for our five year anniversary by renting a villa in the rice fields. We visited the lakes and mountains in the center of the island and stayed in tiny towns. In Ubud, we dove into Balinese culture and loved every minute of it. Eventually, we had to bid farewell to Bali once again.
While we were living in Kunming, I decided to apply for the Darmasiswa Program in Bali. I had to wait a few months for the result, but I ended up getting in. A month after our wedding in Asheville we headed back to Bali, this time for a year.
Naturally, we started out the trip by having ourselves a proper honeymoon!
We rented a gorgeous villa tucked away in the rice fields of Ubud, got pampered at the spa, and had some nice dinners with Balinese dance performances.
For the next 8 months, we often found ourselves playing tour guide. More people came to visit us in our short time in Bali than they did in our 5 years in China.
Imagine that!
It seemed like every few weeks a new group of friends or family was visiting, and we had a blast renting villas and showing them around the island.
When we weren't playing tour guide, we were living in a beautiful house in a quiet village. Our neighbors invited us to the full moon ceremony on Christmas, which was very special. We also got to take part in the Nyepi festivities full of the demonic ogoh-ogoh and volunteer at the Bali Spirit Festival.
It was a year we'll never forget full of incredible experiences.
Since it isn't exactly easy to stay in Bali long-term, we decided to leave once the school year finished up.
Before leaving, Rachel found out about VIPKID and started teaching English online. That's where our digital nomad journey began, and we're still going strong 3 years later!
1. Our Favorite Bands in Our Favorite Country
Back in 2012, we were quite busy teaching English in China. With Chinese New Year coming up, we had some vacation days to play around with.
When we saw that Umphrey's McGee, the Disco Biscuits, and STS9 would be playing a 3-day show at a resort in Mexico, we knew we had to make it.
Since we traveled so far to be there, we decided to take an extra 10 days or so to explore the Mayan Riviera. I had been to Mexico once before on a trip to Cancun with a friend, but it was Rachel's first time south of the border.
We visited the Mayan ruins at Chichen Itza, Ek Balam, and Tulum and were blown away.
During our quick trip, we also got to swim in cenotes, wander the colorful streets of Valladolid, and of course indulge in plenty of tacos and tequila.
We quickly realized how freaking awesome Mexico is, and for the next few years, we always had it in the back of our minds. Little did we know we'd end up moving there a few years later.
With our newfound location independence, we caught the bus down to Monterrey and moved to Mexico. After a quick backpacking trip, we settled down in Puerto Vallarta.
It was supposed to be for a month, but we ended up staying for seven!  I guess you can say we like it here…
When Phish announced they would be hosting another Riviera Maya event in February, we decided that we couldn't sit on the sidelines for this one. Despite the prohibitive price tag, we had faith that we would get in one way or another. Our patience paid off, as we scored show wristbands at the last minute for a fraction of the price.
There were pool parties with giant unicorns during the day, where the tequila flowed like water.
In the evening, we headed into the venue full of beautifully decorated palm trees. With street corn and margaritas in hand, we settled in for a night of our favorite band.
Dancing in the sand (or in the ocean) under the glow of the moon with a few thousand of our closest friends was the experience of a lifetime. As you can see from this post, we've had some pretty epic travel experiences. Phish Riviera Maya just might top the list, as it combined all the things we love – travel, live music, and being with friends.
Reflections on a Decade as a Traveling Couple
What a fun stroll down memory lane that was! It's amazing looking back on all of the experiences we've had as a traveling couple in the last decade. It hasn't always been easy, but it's been an amazing ride so far.
Just ten years ago, we were living on food stamps and barely scraping by in Middle Tennessee. As I write this from our ocean-view apartment in Puerto Vallarta, it blows my mind to think about how far we've come in a decade.
In that time, we've gone from being unemployed to being full-time English teachers to being our own bosses as digital nomads. We no longer ask for vacation time; we just take it.
If you ask me, you can't place a monetary value on your freedom!
Since we started dating, we've lived in three countries (China, Indonesia, and Mexico) and gone on two extended trips (Southeast Asia and South America).
We've been to the Great Wall, Chichen Itza, the Galapagos Islands, Angkor Wat, Machu Picchu, and countless other bucket-list destinations.
Of course, we've also managed to catch a bunch of Phish concerts (I'm hitting #100 this summer!) as well as plenty of music festivals, including one in Costa Rica.
Live music is the foundation of our relationship, and we're still rocking ten years later!
As far as what the next decade holds, who knows? We've got our eyes set on a big trip to Europe this fall. We would also love to get back to Asia. Maybe 2020 will see us finally visit Africa. It's a big world out there, and we've got plenty of gas left in the tank to explore it!
Thank you so much for reading all the way to the bottom! You guys are what motivate us to keep going with the blog thanks to all of your support and kind words! You're as much a part of this as we are and we are so GRATEFUL!